Goodbye, Inuyasha
by Dylan & Harley Acres
June 17, 2008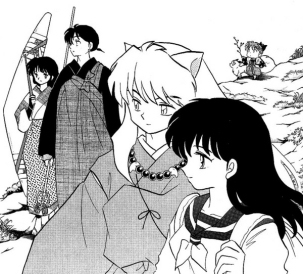 by Dylan Acres

When Inuyasha began in 1996, nine months had passed since Ranma ½ had ended its run in Japan. Of course, 1996 was pre-internet for many Americans, ourselves included, and the first place I heard about Inuyasha was from Viz. I remember being so surprised seeing the first drawings she did, Inuyasha as a character was so unlike anyone that had ever been depicted in Takahashi's other manga before. With a new look and a completely different kind of story I was immediately intrigued and could not wait to see where the series would go.

As the majority of American Inuyasha fans weren't around for its beginning, most don't remember that Viz ran a unique marketing campaign for the series. In the mid-90's Rumiko Takahashi defined the American manga industry. Viz decided to pull out all the stops for her latest series in order to get it to American fans as quickly as possible. The campaign revolved around the "concurrent" release of the manga in Japan as well as the United States, with chapters appearing just a few months after they appeared in Shonen Sunday in Japan. The first two chapters of Inuyasha in America appeared in April 1997, only four months after its Japanese debut. While this was a novel idea, the fact that Shonen Sunday published four chapters a month while Viz published two, meant that in a matter of weeks the releases were nowhere near "concurrent" and after six issues Viz dropped the campaign altogether.

When Inuyasha began, we had been fans of Takahashi's other works for about three years. It was exciting to be getting in on the "ground floor" of her latest work. It was an exciting time to be a Takahashi fan in general, as Viz was releasing single issues of Urusei Yatsura, Ranma ½, Maison Ikkoku and Inuyasha all at the same time. So a fan of Takahashi's would get two chapters of her works every week....in the United States!

Of all these series, Inuyasha was the series we grew up with. Fifteen years-old when the series started and twenty-six as it ends. Its amazing when I think of all the things I've experienced over the course of those years. Because those are such formative ages, I have a lot of special memories of the series. I mean, I learned to drive while I read Inuyasha, I travelled overseas for the first time, scouted colleges in various states with copies of the comic and anime, and even experienced September 11th. A memory that has always stayed with me was a rainy afternoon reading the Demon Bats chapters of Inuyasha 22 alone in a tea shop. I had the sudden realization that I was growing up faster than I realized, but that I still had this link to my childhood, and how happy that made me. Almost as a mirror to that, a few years later I found myself sitting outside on a cold December afternoon reading Inuyasha 27, only this time, I wasn't alone; I was waiting outside my girlfriend's classroom for her to finish her final exam in her Logic class. This series has been an unbroken line through so many of these moments of my life.

While Inuyasha was not the first of Takahashi's series that we created a website for, I believe that it is without a doubt the series that is most responsible for the sucess of Rumic World. When the anime was first announced our host crashed for the first time. When the series debuted on Cartoon Network, the site crashed again, and until we changed hosts, the site would usually go offline the day following a new episode's debut. Harley had initially interviewed Viz producer Toshifumi Yoshida about the 10th Anniversary of Ranma ½ in the United States, and we were shocked when this first contact led to a friendship with Toshi. Toshi was always so cool and would ask our opinions about possible voice actors for the characters during the casting phase, and even asked our input on English names for Inuyasha's techniques. One of the biggest honors was when Toshi chose us as the site who would reveal the complete cast list months before the anime debuted.

Another story that we've never told until now is that Toshi would visit our messageboard when he had a free moment and read the discussions about the episodes as they debuted on television. One discussion even led to a change in the series. Episode 13 is widely considered to be the episode where Inuyasha reveals the first hint of feelings for Kagome. Injured by the Spider Head demons, a human Inuyasha lies in Kagome's arms and tells her that she smells nice. Some fans on the board made mention of just how important this scene was, and they felt that the dialog fell a bit flat. Upon reading this, Toshi re-recorded the scene for the DVD release. We always kept that a secret so that fans would be honest about the series adaptation for TV.

With the number of unfinished websites and the fairweather fans who abandoned the series along the way, it makes me feel great pride to know that I've been there since the beginning, the very first chapter. This week, waiting for the final chapter to appear in Shonen Sunday has felt endless, but in the final hours before it appeared I found myself wishing I could slow down time just a bit and savor this feeling a bit longer. Perhaps it was fate, but the day before the final chapter was released, I was offered my first real job. It seems fitting that I close one chapter of my life with Inuyasha, I'll begin my professional life with Takahashi's next series, whatever that might be. I do know that I will miss these characters terribly, but they will only be a few feet away, in our books and videos and most importantly in our memories.


---
by Harley Acres

I remember very well when Inuyasha started back in 1996. Viz ran the first highly anticipated chapter in their Animerica magazine. Takahashi was big news in America in those days, prior to the glut of manga and anime that came to our country at the beginning of the 21st century. Any American manga fan worth his or her salt was at least familiar with Takahashi's works, and Inuyasha was the first new series American fans would have a chance to get on board with at its very beginning, little did I know that this would wind up becoming her longest serial.

Inuyasha was the series that sheparded me to Japan when I lived there from 2002 through 2003. It was an interesting experience, and I'll always have fond memories of getting out of my Japanese classes on Wednesdays and walking down to the neighborhood bookstore to pick up the new Shonen Sunday. I can remember thumbing through the first issue I bought and seeing Bankotsu laying dead as Naraku absorbed his Shikon shards. It was a blast doing summaries from Japan and interacting with English speaking fans on the latest developments as they happened. I even said goodbye to Japan by picking up volume 28 which was released the day I boarded my flight back to the US from Kansai International Airport. Ironically, when my brother finally travelled to Japan five years later, he took the recently released English versions of the stories I had read five years prior when I lived in Japan.

The anime was also running during my year in Japan. The first episode I watched was on September 2, 2002 which was episode 85, "The Evil Within Demon's Head Castle", the Oni's Head episode. Because I was living in a dorm, I would go into the kitchen and watch the show, which was sandwiched between the evening news and Detective Conan (though I tended to catch the end of Megaman NT Warrior on a different station instead of the news). Shortly before I left, we were fortunate enough to break the news on the English cast of Inuyasha, thanks to Toshifumi Yoshida. I couldn't help but wonder how the English voices sounded back home as I watched the show in its original Japanese. After the show debuted on Cartoon Network, I still remember the headaches we had with bandwitdth overages crashing the site on a weekly basis.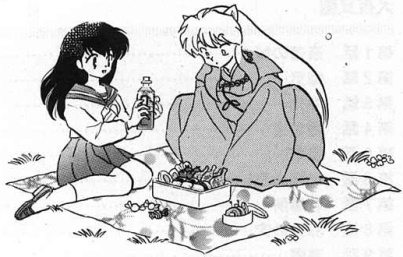 Strangely, my time in Japan corresponded with a long string of episodes in which Naraku was in hiding. I can remember being disappointed that I essentially did not get to see the notorious villain of the series for the entire year save for a few flashback sequences. Ironically, it is Naraku that I find myself thinking most about now as the series ends. Naraku is now dead, having died a lonely, hollow death. Seeing him briefly for the final time inside the Shikon Jewel I felt sadness and pitied his failings in being unable to reunite with Kikyo.

In many ways Takahashi re-emphasized the dual nature of Inuyasha and Naraku, both half-demons, both in love with the same woman, but both living very different lives. Takahashi has a tendency to ultimately redeem her characters, and I was thankful that she did not do this with Naraku. We see him die alone and filled with disappointment that his wish did not come to pass. It was only in the very end that I realized just how interesting a character he turned out to be.

My year abroad also corresponded with the release of the second Inuyasha film, "The Castle Beyond the Looking Glass". I was fortunate enough to take a trip with one of my fellow exchange students to see the film in a little movie theater in downtown Osaka. The picture of Inuyasha and Kagome kissing that I photographed from the theater book was quite the hit on our messageboard.

I also got to see the third Inuyasha film, "Swords of an Honorable Ruler", in a theater of sorts as well. Viz promoted the film by sending travelling bus-theaters around the country, and during a day off from graduate school I drove down to Bessemer, Alabama right outside of Birmingham and watched the film on one of the buses in the parking lot of a Wal-Mart.

Funnily enough, Sango, in a way became my mascot while in Japan. Anytime I plunked a few yen into a gashapon machine I would win a Sango doll, Sango keychain, or a Sango pin. My little Sango pin stuck to my backpack actually helped me strike up a conversation with a cute Japanese girl who had an Inuyasha cellphone strap. We became friends and ironically I found out she was a Kagome/Kagura cosplayer. I'm proud of the happiness Sango has found as Inuyasha concludes, because she has certainly been the character I came to care most about over the past decade. Sango got me home safely from my travels in Japan, and I'm glad to see she safely found her way home too.

There were many times in the last few years when I thought the series was wrapping up. I'm glad I was wrong, as I see how the characters have matured in this final chapter, moving on with their lives as we, the readers shall too. All of these little events will forever be etched into my mind and associated with Inuyasha, and quite appropriately, the journey motif of the series matched a period in my life that saw me leave home, leave my country, leave college and ultimately leave my childhood behind. I will forever be thankful to my pen and paper travelling companions for seeing me safely there and back again.