The Tenth Anniversary of Inuyasha Sengoku Otogi Zoshi
by Dylan Acres
November 19, 2006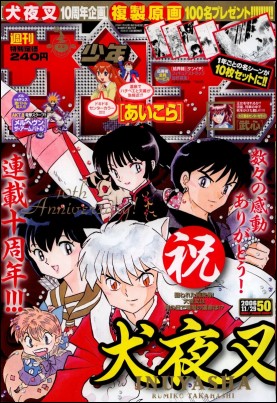 Its hard to believe it, but Rumiko Takahashi has been bringing us the adventures of Inuyasha and Kagome for a decade now. Ten years in and the series has gone through numerous transformations. What began as a time-travel story that bore a striking resemblance to Takahashi's Fire Tripper turned into a grand adventure with the resurrection of Kikyo, the introduction of Naraku and the appearance of Shippo, Miroku and Sango. Inuyasha surpassed Ranma ½ to become Takahashi's longest running series in 2005 and has continued on years after many fans thought it was approaching its conclusion. As with all of Takahashi's series, Inuyasha has been a runaway hit across the planet, and on this the tenth anniversary of the series we all hold so dear, Rumic World is happy to bring the celebration straight from Japan to the English speaking fans with our translation of Shonen Sunday 2006 Volume 50's bonus material.

In addition to chapter 482 this issue presents fans of Inuyasha with a few nice bonuses as they visit newstands this week. As to be expected, the cover featured Inuyasha and crew striking a dramatic pose in honor of the landmark anniversary. Inside the magazine fans could gaze at four pages of beautiful watercolors of Rumiko Takahashi. The real bonus came at the end of the story however with a message from Takahashi herself to fans and a listing of the manga author's ten favorite scenes from the past ten years. Takahashi states:

"When I first started the serialization of Inuyasha my goal was to continue publishing it until I could send a New Year's card in the year of the dog. Thanks to you, the readers, I will be able to do so this year. Because this series is light on comedy, it was difficult in the beginning, but thanks to all of your encouragement I've had a lot of fun doing it. The story is entering its final phase, but the problem of how to resolve everything is still looming. Please continue to support me for just a while longer."
--Rumiko Takahashi

Takahashi's ten favorite scenes from Inuyasha.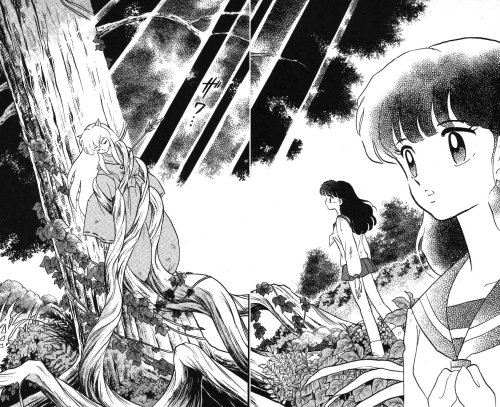 Chapter 1: The Accursed Youth (1996)
·Upon arriving in the Feudal Era Kagome finds Inuyasha pinned to the Goshinboku.
Chapter 75: Kikyo's Shield (1998)
·Kagome discovers Kikyo slumbering in a tree just before Kikyo attempts to kill Inuyasha.
Chapter 218: The Scarlet Blade (2001)
·Inuyasha shatters the Red Stone of the Demon Bats and gains Tetsusaiga's first upgrade, the ability to shatter barriers.
Chapter 273: The Bottom of the Corridor (2002)
·Bankotsu uses the shards of his fallen Band of Seven comrades as he prepares for his final battle with Inuyasha.
Chapter 292: A Special Girl (2003)
·After surviving a night in which they were forced to fight one another, Miroku tells Sango that he wants to have children with her and spend the rest of their lives together.
Chapter 115: The Belonging Place (1999)
·Inuyasha tells Kagome about the difficulties he faced as a child born to a demon and a human.
Chapter 160: Tetsusaiga Reborn (2000)
·Inuyasha transforms from his human form just in time to protect Totosai from Sesshomaru.
Chapter 374: Wind (2004)
·In her final moments Kagura looks up to find Sesshomaru standing with her.
Chapter 434: Goraishi's Power (2005)
·Koga unveils the power of his ultimate weapon, the Goraishi.
·
Chapter 465: Light (2006)
·Inuyasha holds Kikyo in his arms as she dies from wounds inflicted by Naraku.