Ranma ½ Milestones-
Over Ten Years and 100,000 Hits

December 12, 2001

I felt today would be a good day to post some of the things I've been collecting over the past few months. Today Perfect Edition hit 100,000 hits after three years, five months, and seven days and I'm in a bit of a reflective mood. The series is approaching it's eleventh anniversary as a manga published in English and the anime, as it draws closer to it's final episode, has reached eight years just this month.

In the Beginning...
I've been following Ranma ½ for many, many years now. Since I was in 7th grade as a matter of fact. Now I'm halfway through my junior year of undergraduate school, and I can scarcely remember a time when Ranma ½ wasn't a part of my life.

I've collected information out of habit, and this website provided a forum for me to share it with other fans. The title, Perfect Edition, was suggested by my brother who adapted it from the first domestic Urusei Yatsura graphic novel "Perfect Collection". I'll admit I felt a little brash naming a site "Perfect Edition" when it certainly wasn't the best at that time... but I knew that it would be. I can still remember the early days of the site attracting a few hits each day. It was a very different page, with a dark black background, and as many different font colors as there were pages. I certainly wasn't knowledgable with HTML and relied heavily on Microsoft Office to help me code the pages. I still remember the first criticism I recieved about the site from a Japanese messageboard... "fix the background."

I Set Goals...
I knew from the beginning that I wasn't going to fall into the same pits that other Ranma ½ sites had. I saw all too many that had links to their friends sites, or discussed a multitude of other anime series. One that still sticks out in my mind was one of the former major Ranma sites that asked no one to e-mail them with "stupid questions" because their e-mail would be promptly deleted. Seeing sites like that helped me mold the ideas that would go into Perfect Edition. No stupid question would be ignored, was my cardinal rule. In fact, I can honestly say I've responded to every e-mail I received, even if I've answered the question somewhere in the site.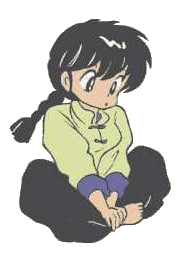 Another aspect that I saw all too often was an utter digust with Viz, Ranma's parent company. Harsh judgements on manga and anime translation, and cruel comments on the English dub showed me that to have a truly great site, I would have to give credit where credit is due. Viz and the Ocean Group do an outstanding job on the series, just as Kitty and the Japanese actors do. Without Viz, most of Ranma's critics would never have heard of the series even if they hate to admit it. They all deserve credit for their many, many years of hard work and I hope this site promotes the people behind the voices, no matter what language they may speak.

Keeping the site current was another important step. I've seen too many Ranma sites that say something such as "Last Update: May 1997". 95 percent of Ranma sites have become decayed with ancient information and lack of updates. So I strove to update at least once a week, and slowly but surely it helped bring in regulars to my site to see what was new.

So I set goals. I would find another Ranma site and vow that I would make mine better. Occasionally I would hear from other Ranma webmasters and that would tell me I was doing my job. After that I would look for another site to entice me to raise the bar. At times it almost felt like the back and forth training Ranma and Ryoga do to improve themseleves. Of course I never told the other webmasters I was doing this...

And finally, I decided to attempt my first tough goal- getting listed as a General Information site on the Anime Web Turnpike. Every other site that I saw as my real competition held a position in that section, and I set out towards getting listed there as well. It took many months of submitting and redesigning. But I finally achieved that goal on August 22, 2000 and felt I had truly entered the "big leagues" of Ranma sites. Now all I had to do was become the best...
And Then Went One Step Farther...
I knew just having character profiles and manga summaries wasn't going to make Perfect Edition stand out, so I had to find something that no one else had. The first "scoop" I felt I had were my anime summaries that I wrote for episodes that had not been released domestically. From that point I set up my music section, which I am very proud of due to the somewhat difficult nature of cataloging the Ranma ½ discography. My favorite section, Cultural Notes sprung up from my need to know more about the basis of some of the characters and storylines featured in the series. Most recently the Oddities section proved to be my crowning jewel with it deleted storyboards. Finally I was able to actually discuss Ranma with the main figure behind it's domestic release- Mr. Toshifumi Yoshida. Mr. Yoshida has been kind enough to share news on the series with me over the past few months, and I deeply appreicate the time he has taken to communicate with me.

Once I posted those I finally felt secure about my website's standing in the Ranma community.

There Are Always Regrets...
I always disliked the way the Ranma ½ online community was structured. I saw a lot of arguing over small things (English dubs, Ranma's hair color, etc.), or a general lack of understanding on some of the aspects. Overall I felt it was a somewhat negative coummunity when compared to that of other anime fans'.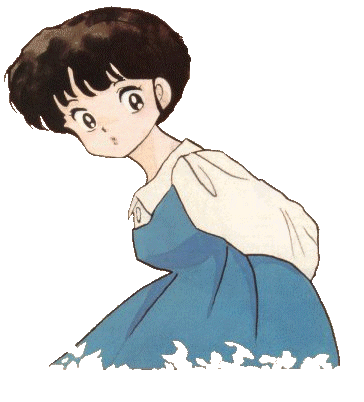 Sadly in the days of anime on major broadcast networks and cable, Ranma has taken a bit of a backseat to other series. Certainly the series has been around for a long time, 14 years in Japan and 11 years here. Considering that it's still an incredibly popular show, but even the most optimistic person can tell from the abondoned sites and dwindling fan community that Ranma has seen it's heyday.

But In the End, It's Here to Stay.
But against all odds Ranma ½ has never fallen from the Top Ten Anime Series listed on the Anime Web Turnpike. It has been an amazingly popular series, and was always Viz's bestseller until Dragonball debuted.

Just in the past year I've added a messageboard that helped me get in touch with a lot of great fans that truly love the series. They've proven to be very knowledgable and go a long way toward erasing my earlier thoughts about some of the less courteous fans. They're all class-acts and encourage me to make the site that much better. I also moved off of my longtime home at Geocities for a full domain that I actually own. It has been a very good year for this site, and I can only hope for many more like this.

So in conclusion I have no doubt in my mind though that, along with the work of Ryoichi Ikegami, Rumiko Takahashi established manga in America. She has made it a viable market here, in no small part thanks to the extraordinary success of Ranma ½ and the hard work of the people at Viz, Shogakukan, the Ocean Group, and you, the fans. I cannot thank all of you enough for your continued interest in this site and this series, please keep coming back, and I can promise to do my best to provide you with the most detailed and up-to-date information. My heart is filled with pride and here's to a great ten plus years of excellent storytelling and beautiful artwork. I can only hope for another ten.


Harley Acres
Webmaster
Ranma ½ Perfect Edition