Welterweight Kappei Onimaru just does not have what it takes to be a boxer. After all his years in the ring he is still stuck fighting four round bouts, and of those he's never won a single fight. But he has the pride of an elder statesman and when he learns that Kosaku will have to gain twenty pounds to fight him, he decides to call off the match.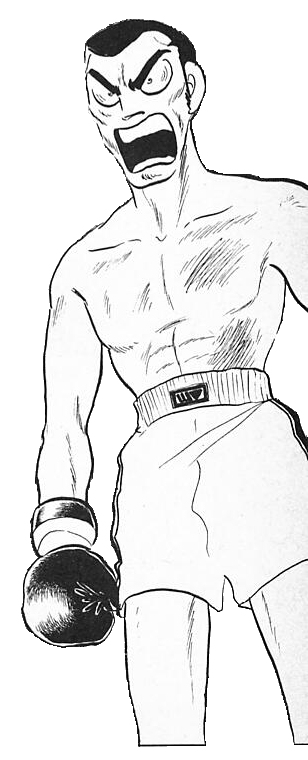 While waiting to meet with Mukaida, he watches Kosaku pigging out, when he learns that this is his opponent, he becomes enraged at his lack of discipline and vows to teach him a lesson in the ring. Onimaru reveals to Kosaku that his last four opponents have gone on to become the four most famous boxers in Japan, and that Kosaku will not join their ranks. His wife however, wants nothing more than for her husband to retire and work full time at their engineering shop.

Onimaru's wife goes into labor on the fight night, giving him all the more reason to take Kosaku down. Their fight turns out to be even handed, as both Onimaru and Hatanaka score knockdowns. It all comes down to a double knockdown, in which Kosaku barely manages to get up before the ten count. Onimaru realizes Kosaku's potential, but has more important things in his life than boxing now that his daughter is born.

---
The Meaning Behind the Name
Kappei can mean "winning strategy" a joke on Onimaru's numerous loses. Oni means "Ogre".