Yoshihiko is a country kid with ambitions of moving to Tokyo and becoming a professional fighter. He's so ambitious in fact, that he got suspended from his high school for fighting. As luck would have it, his uncle sells equipment to Mukaida and they work out a deal for Yoshihiko to tag along on Hatanaka's training regime.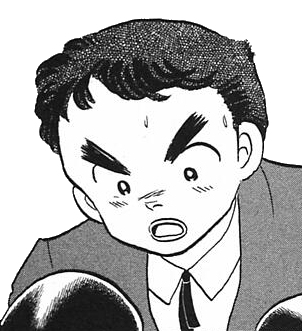 Unbeknownst to everyone else however, is that Yoshihiko made a deal with his parents...if he knocks out a Tokyo boxer, they will allow him to leave home and train full time to become a professional boxer. And so, with this promise Yoshihiko takes every opportunity to sucker punch Kosaku, in order to earn the right to follow his dream.

Yoshihiko begins to try to exploit Kosaku's weakness for food, but through the course of his antics, finally learns what it means to be a real boxer. When he witnesses Kosaku's victory in an actual match, he becomes determined to do things the right away and follow his dream of becoming a boxer.

---
The Meaning Behind the Name
Yoshihiko means "good boy" which he obviously, is not.