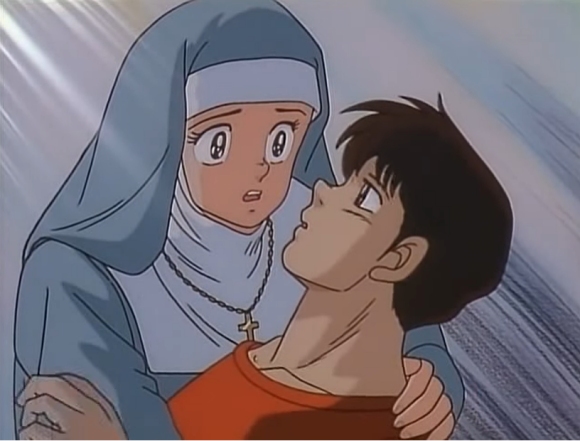 Kosaku in better days.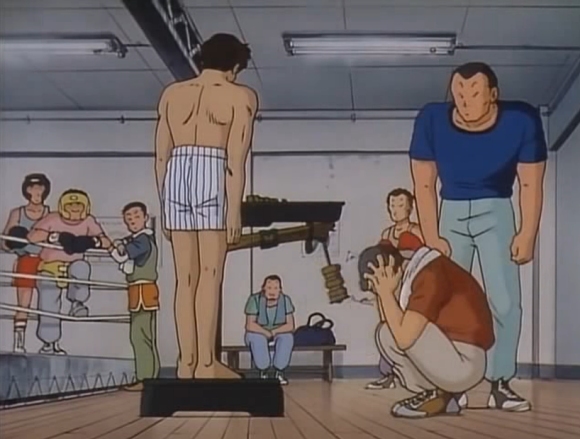 The usual occurence in Kosaku's matches. Going down for the count.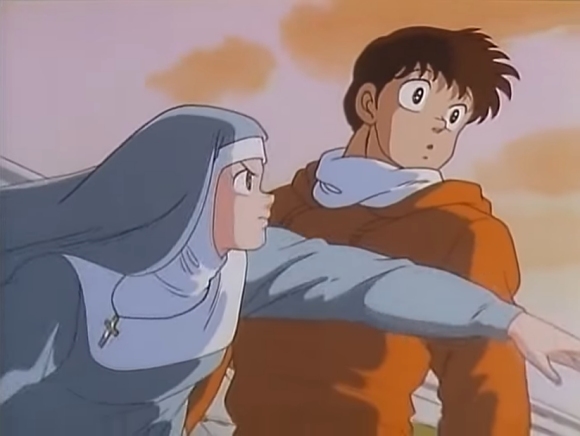 Can this woman lead the lamb away from slaughter?


Kosaku learning the hard way of Angela's devotion to her religion.

While they can never be together, it is obvious that the attraction is mutual.
Boxing prodigy Kosaku Hatanaka is the first fighter produced by Mukoda's Gym to turn pro. At the age of 17, he quits high school at his coach's insistence and devotes his life to the sweet science of boxing.
Three years later, things could not be worse. Kosaku's record is average at best, Coach Mukoda is fed up with him as Kosaku has become a glutton, constantly over indulging in whatever food he sees, wrecking his training regimine and forcing him to balloon in weight.  
As Kosaku faces yet another possible defeat at the hands of a better boxer, he meets a young novice nun, Sister Angela. Angela takes pity on Kosaku and encourages him to stick to his training and devote himself to boxing. Kosaku instantly develops a crush on Angela and has no problem letting her know, even though as a nun, she has promised to devote herself to God and cannot enter into a relationship with him.

Kosaku mistakes Angela's concern for him as a mutual attraction and kisses her. Angela stands up for herself and slaps him, sending Kosaku reeling into a depression, as his eating spirals out of control once more, much to Mukoda's irritation.

Angela visits Kosaku again, and encourages him to train harder than ever. With her support he hopes to overcome his gluttonous ways and win her love as he wins his matches in the ring. Can a nun who has given herself to her Lord really find love in a luckless boxer, and can Kosaku get his act together long enough to become a man worthy of Angela's love?