Daija is a sprite who attends to the Water Goddess of a local temple. Seeing an opportunity to gain power, he attacked and imprisoned the Goddess. After his successful battle Daija claimed his prize,the Amakoi Halbeard and assumes the position as head of the temple.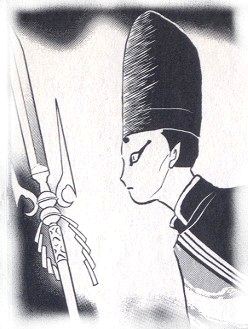 Shortly after meeting Sango, Inuyasha and the rest of the group arrive in a village where human sacrifices are being made to a water god. Deciding to investigate, they discover the cold, cruel Daija who they assume to be a demon. After their first battle and quick defeat, the group realizes they seem to be dealing with a true god. The power of the Amakoi Halbeard has granted Daija the power of the true Goddess.

Separated from the others, Kagome is left alone to protect the child sacrifice intended for Daija. It is then that she discovers that her arrows are one of the only things that can harm this demon. As he attempts to kill her before she can harm him, Miroku and Sango learn his secret. In the battle with Inuyasha and Sango Daija is forced to reveal his true form- that of a giant snake. With the halberd out of Daija's reach, Inuyasha is able to slice the serpent in half and end his reign of terror.
---
The Meaning Behind the Name
"Mizu Kami" translates to Water God.
Voices:
Ryunnosuke Obayashi & Colin Murdock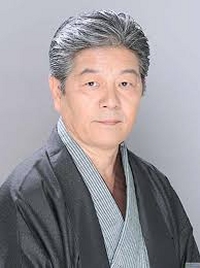 Ryunnosuke Obayashi provides the voice of the high-strung Soun Tendo in Ranma ˝. His other work includes a few fatherly roles such as Kiichi Gotoh in Patlabor, Raijuta Isurugi in Rurouni Kenshin and Yokomori in DNA˛.

Colin Murdock's most famous role is probably Atsushi Henmei in Jin-Roh, but he also has played Tatsunosuke in Z-Mind, and other roles in Inuyasha including Royakan, and Sango's Father.