Many of these characters appear in one or two storylines throughout the manga and do not reappear again. Even though these characters most often are not recurring, they do play an important role in the storylines in which they appear.
---
Crow Demon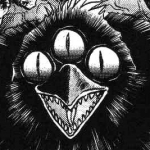 This demon eats it's way into corpses and is able to control their body. The Crow Demon steals the Shikon Jewel when it is still whole. As it escapes Kagome blasts the demon with an arrow causing the Jewel to shatter into tiny pieces.
Kokichi
voices: Nami Okamoto & Cathy Weseluck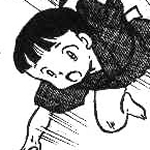 The Crow Demon kidnaps this boy as it tries to make it's escape from Inuyasha and Kagome.
Nothing Woman
voices: Kikuko Inoue & Alaina Burnett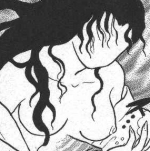 The Mu Onna (Nothing Woman) is the spirit of mothers who have lost their children in battles. She takes the form of Inuyasha's deceased mother and attempts to devour him. After he frees himself she sacrifices her own life to save him from Sesshomaru.
Inuyasha's Father
voices: Akio Otsuka & Don Brown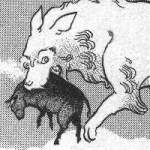 Inuyasha's father died shortly after he was born due to injuries he suffered in his battle with Ryukotsusei. After his death he takes the Tetsusaiga with him into the afterlife.
Izayoi
voices: Kikuko Inoue & Alaina Burnett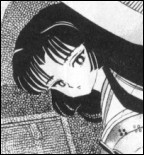 Izayoi is Inuyasha's mother. She raised him for a few years before her death. From Inuyasha's accounts he loved her very much although their limited time together was difficult due to the discrimination they suffered.
Yuka, Eri, & Ayumi
voices: Kaori Shimizu/Saffron Henderson (Yuka), Yuki Masuda/Cathy Weseluck (Eri) & Nami Okamoto/Jillian Michaels (Ayumi)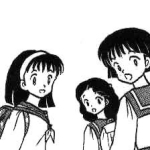 These girls are school friends of Kagome's. They always encourage her to go on dates with Hojo, much to Kagome's reluctance, and often are critical of Inuyasha, who they believe is a two-timing gang member that will ruin Kagome's life.
Hiyashimaru
voices: Motoko Kumai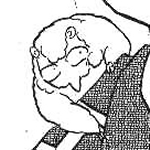 This ingenius little monkey is Nobunaga's devoted pet and travelling companion. He has helped Nobunaga to escape many treacherous encounters.
Princess Tsuyu
voices: Ryoka Yuzuki & Jillian Michaels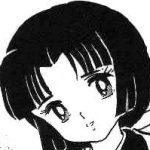 A childhood friend of Nobunaga who he secretly loves. She has married a lord who has become possessed by Tsukumo no Gama. The giant frog demon has been kidnapping women, and Nobunaga want to protect Tsuyu from the same fate.
Umao & Shikako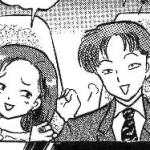 Two young people out on a date that accidently hit the Mask of Flesh with their car.
Mayu's Mother
voices: Shinobu Satou & Lisa Ann Beley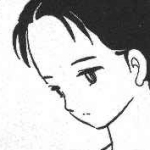 Mayu's mother saved her son from the fire in their apartment, but did not save Mayu, thinking she was not home. Mayu's spirit seeks revenge against her family for letting her die.
Satoru
voices: Yuki Masuda & Cathy Weseluck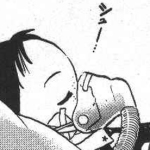 Mayu's young brother who survived the fire that took her life. Mayu blames him for her tragic death.
Tatari Mokke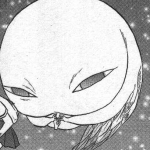 Tatari Mokke, the soul piper, seeks out the souls of children who have died but refused to move on to the afterlife. Usually his eyes remain closed, but when they open fully he will take a child's soul to hell.
Nazuna
voices: Fumiko Orikasa & Tabitha St. Germaine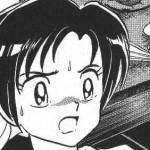 Nazuna's parents were killed by the Spider Head demons leaving her to be raised by a priest. Because of the loss of her parents, Nazuna is extremely bitter towards all demons.
Spider Head
voices: Mugihito & Richard Newman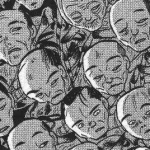 The Spider Head demons have overrun a rural village and temple and killed Nazuna's family. Nazuna does not realize that the priest who has cared for her is actually a Spider Head in disguise.
Hachiemon
voices: Toshihiko Nakajima & Terry Klassen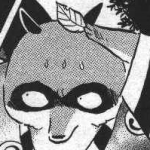 This Tanuki is Miroku's partner. Together they work many scams where the Tanuki transforms into a demon, and Miroku exorcises him for money. Hachiemon is a very loyal friend to Miroku and saved his life when he was attacked by Mushin.
Onigumo
voices: Hiroshi Yanaka & Paul Dobson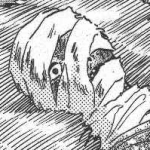 Onigumo is the burned and crippled bandit that Kikyo tended to shortly before her death. Onigumo merged with dozens of demons and became Naraku. Quite possibly the source of all evil.
Shinidamachuu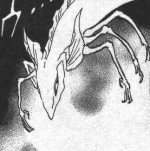 These snake-like creatures follow Kikyo wherever she goes. She uses them to take the souls of women so that she can continue her half-life.
Seikai
voices: Masashi Hirose & Ron Halder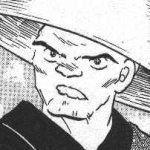 Seikai is the senior monk who is travelling with Sayo. He encounters Kikyo in a village, and after trying to excorcise her he is accidently killed.
Sayo
voices: Masayo Kurata & Tony Sampson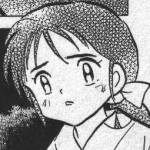 Sayo is the junior monk who assists Seikai in attempting to exorcise Kikyo. Inuyasha and the others find him weakly clinging to life in a river after his disasterous encounter.
Kirara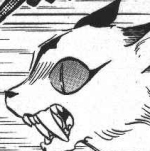 Sango's pet demon has been with her for many years. Along with Sango and Kohaku, Kirara is the only survivor of the Demon Exterminator Village. While sometimes appearing as a docile two-tailed cat, she can instantly transform into a fearsome beast that is capable of flight and has enormous strength. Kirara is loyal to Sango first and foremost, but has warmed up to Miroku and her other travelling companions as they have pursued Naraku.
Sango's Father
voices: Masahiko Tanaka & Colin Murdock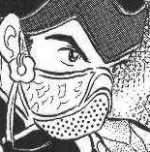 Sango's father is also the head of the Exterminator's Village. He takes his daughter and son to fight a spider demon at Kagewaki Hitomi's manor. After the battle the demon slayers are slaughtered by Kohaku, who then kills his own father.
Midoriko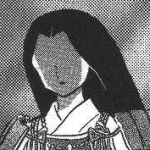 The creator of the Shikon shard who battled a group of demons and ultimately died in the process. The souls of the demons merged with her's creating the Shikon Jewel.
Suekichi
voices: Junko Noda & Danny McKinnon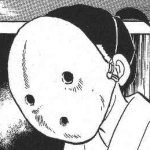 Suekichi is sent to the false Water God as a sacrafice in place of the headman's son, Taromaru.
Taromaru
voices: Mokoto Kumai & Reese Thompson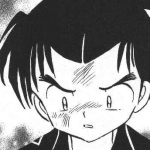 Taromaru is the village headman's son who has misgivings about allowing his friend to go in his place as a ritual sacrifice. Taromaru hires Inuyasha and the others to go and save his friend, Suekichi.
The True Water God
voices: Masaki Katsuki & Sylvia Zaradic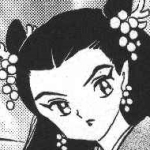 The goddess was shrunken down and sealed in a tiny cave when the false Water God took her magical Amakoi Halberd.
Mantis Demon
voices: Izumi Ohgami & Cathy Weseluck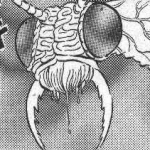 This mantis demon disguised itself as a beautiful young woman and sliced Miroku's air rip open when he tried to suck it in. Miroku destroys the beast, but it's family comes to hunt him down.
Mushin
voices: Yuzuru Fujimoto & Alec Willows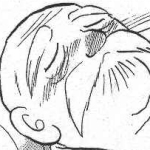 Mushin is the adopted father of Miroku. After Miroku's real father died, Mushin raised the boy at a Shinto temple. He is also the one that taught Miroku all his bad habits.
Urn Grub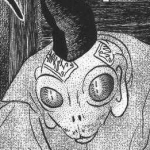 This demon is able to use a strange urn to control Miroku's adopted father, Mushin. He forces Mushin to try to kill Miroku when he is drugged and ready for surgery on his wounded hand.
Jinenji's Mother
voices: Natsuko Fuji & Stevie Vallance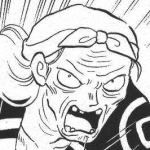 Jinenji's mother met a demon when she was young, and fell in love with him. Her son Jinenji is the gentle giant that the villagers all hate, which has made her bitter towards other humans.
Demon Larva Mother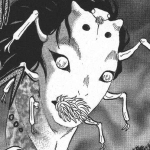 The grotesque creature has been devouring the bowels of the local townspeople to feed her children. The villagers had blamed Jinenji for the attacks until they see this creature.
Kagewaki Hitomi
voices: Toshiyuki Morikawa & Paul Dobson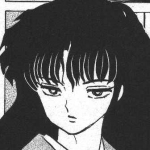 Kagewaki is a young lord who Naraku impersonates. He uses the lords power to search for the Shikon shards and manipulate those around him.
Momo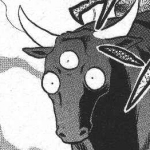 Totosai's three-eyed bull is able to fly through the air and is Totosai's main means of transportation.
Harpy King
voices: Tomoyuki Shimura (Older) Tadahisa Saizen/Paul Dobson (Younger)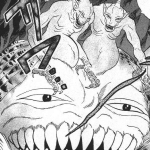 The Harpy King is actually two conjoined twins that think independently. They are the sworn enemy of the Demon Wolf Tribe and have been at war with the wolves over their Shikon Shards.
Ginta & Hakkaku
voices: Hiroyuki Yoshino/Paul Dobson (Ginta) & Daisuke Kishio/Alistair Abell (Hakkaku)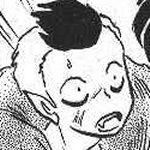 Ginta (right) and Hakkaku (left) are the only other survivors of Koga's clan and travel with him everywhere. They are not as brave as their leader, and also do not harbor ill feelings towards Inuyasha.
Aun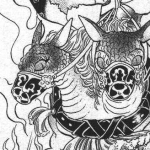 Sesshomaru's dragon is the main transport for Rin and Jaken. The creature can breath fire as well.
Koharu
voices: Rie Iwatsubo & Brittney Irvin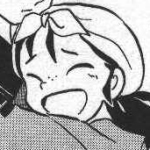 As a young man Miroku met a little girl named Koharu and promised to take her away from her difficult life of servitude. Many years later Miroku meets her again when her village is attacked by Kanna.
Bokuseno
voices: Taimei Suzuki & John Murphy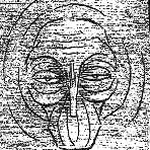 Bokuseno is a tree creature that is an old friend of Inuyasha and Sessho-maru's father. The scabbards for Tenseiga and Tetsusaiga were created from his branches.
Satsuki
voices: Yumi Ichihara & Caroline Chan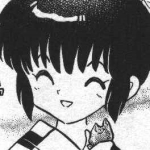 Her brother died in a war, but she has a stone that she believes is a Shikon shard will wish him back to life. Shippo develops a crush on the girl and tries to protect her.
Lizard Demon
voices: Fumioka/Andrew Toth (Demon) & Shinichiro Ohta/Trevor Devall (Brother)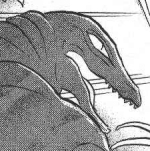 This weak demon impersonates Satsuki's brother and tries to trick her into giving him her Shikon shard. Shippo tries to stop him, but needs Inuyasha's help to do so.
Coyote Demon
voices: Kyoko Tsuruno/Ellen Kennedy (Princess) & Takumi Kurebayashi/Ward Perry (Demon)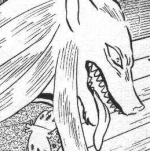 After being stranded in the woods and dying, a coyote demon possess this beautiful woman and lures men to their deaths.
Shiori's Mother
voices: Yuriko Yamaguchi & Nicole Leroux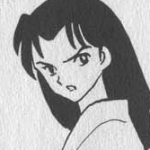 Shiori's mother had a child with a demon, and because of this she has been persecuted in her village. She and her child are blamed when demon bats attack and kill many villagers.
Taigokumaru
voices: Ryuji Saikachi & Scott McNeil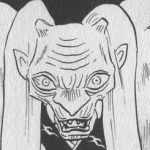 Taigokumaru is the leader of the demon bat clan, and forces Shiori, his granddaughter, to generate a barrier to protect him while he demolishes her mother's village.
Exorcist
voices: Toshiko Fujita & Patti Allen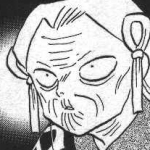 This elderly exorcist claims to be a powerful spiritualist, but is actually just a normal human with very little skills.
Oni's Head
voices: Hiromi Tsuru & Kathleen Barr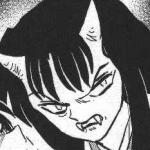 This creature has been gaining power now that Naraku has disappeared. She has possessed a lord and killed the lady of the castle and impersonated her while gathering souls from travelling priests.
Monkey Children
voices: Matoko Kumai/Sam Vincent (Gon), Yumiko Kobayashi/Andrew Toth (Bun) & Kaori Shimizu/Cathy Weseluck (Ken)
These little monkeys have misplaced the stone in which their Monkey God resided. They magically attach a large stone to Inuyasha's hand to force him to help them find their master.
Monkey God
voices: Ritsuo Sawa & William Samples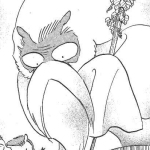 The Monkey God lives in a stone, but during a temple fire the children moved it and then forgot where they left it. The Monkey God also has information on the whereabouts of Naraku.
Rasetsu
voices: Akio Nojima & John Payne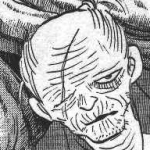 Rasetsu, also known as Kansuke, is a old bandit who dies while trying to make a pilgrimage to Mount Hakurei. He asks Kikyo to make the journey to the distant mountain for him. In the anime, they expand his role and reveal that it was he who disfigured Onigumo.
Hakushin
voices: Fumio Matsuoka & Hiro Kanagawa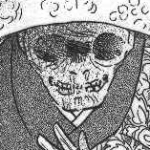 Hakushin was a high level Buddhist priest who agreed to sacrefice himself to save his people from a pestalance in the area. He did so, but as he was waiting to die he began to hate his followers who prayed for his death in order that they may be saved. Naraku then convinces him to erect the barrier around Mount Hakurei.
Wakana
voices: Sayaka Oohara & Lalaina Lindbjerg

Wakana, like the other women of her village, has injested a salamander's egg which forces her do kill any men that come into the area and feed them to her master. Her husband, Shinnosuke almost suffers this same fate.
Shinnosuke
voices: Nozomu Sasaki & Trevor Devall

Shinnosuke is Wakana's husband who she believed had died in battle. She left her village thinking he was dead and has since become possessed by a salamander demon.
Salamander
voices: Haruko Kitahama & Patricia Drake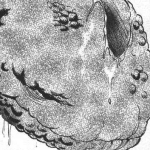 The salamander demon first lives within a painting of the Buddhist deity Kannon and eats the flesh of men. Miroku drives it out and it reveals it's true form. It's eggs are injested by the women of the village and they are forced to do the creature's bidding.
Mimisenrei
voices: Junji Nishimura & David Kaye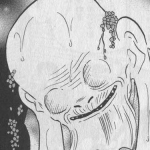 An old demon with huge ears, Mimisenrei has the power to hear everything in the world. Naraku comes to him to ask where the final shard of the Shikon jewel has disappeared to.
Entei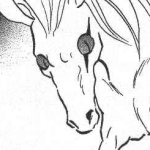 Entei is a demonic horse that Hakudoshi frees in order to expidite his attack on demons. Inuyasha kills Entei once Hakudoshi's barrier is broken by Kikyo.
Kanta
voices: Miki Narahashi & Sharon Alexander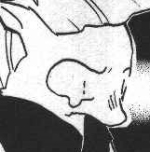 Kanta is a young otter demon who is attempting to find his father's severed head and reattach it. Shippo sees him as a kindred spirit and decides to help him out.
Kanta's Pa
voices: Taro Yamaguchi & Paul Dobson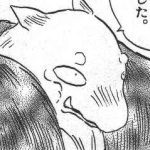 Kanta's Dad's head was severed by Hakudoshi in an attempt to see how to enter the netherworld by seeing through his spirit's eyes. Sessho-maru uses Tenseiga to bring the demon back to life after his head is reattached.
Tekkei
voices: Junko Mashina & Linda Darlow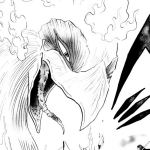 Princess Abi's mother is connected to the skeletal birds that live in the underworld, and hence she is able to serve as a bridge to the next world. Naraku uses her blood in his quest to gain the Shikon shard that has been taken to Inuyasha's father's grave.
Kocho & Asuka
voices: Yuki Masuda/Katie Chapman (Kocho) & Kaori Shimizu/Chantal Strand (Asuka)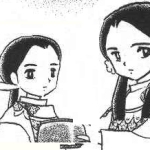 Kocho (with one long ponytail) and Asuka (with two strands of hair) are shikigami created by Kikyo. When she was near death and unable to move, Kikyo used Kocho and Asuka as assistants to help keep track of Naraku's dealings during her time in hiding.
Jumyo
voices: Shiro Saito & Peter New

Jumyo is the son of Hosenki. After his father's death, he took over for his father making black pearls.
Gozu & Mezu
voices: Susumu Chiba/Michael Kopsa (Gozu) & Naoki Makishima/Jason Simpson (Mezu)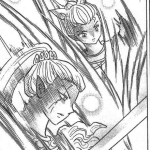 Gozu (left) and Mezu (right) are giant statues that guard the entrance to the afterlife. They faithfully protect this barrier to ensure that the living can not pass though it.
Hosenki
voices: Ryuzaburo Ohtomo & Dave Pettitt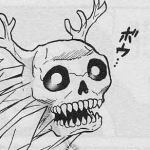 Hosenki was a close friend of Inuyasha's father. He created the Black Pearl which was hidden in Inuyasha's eye and allowed him entrance to his father's grave to receive Tetsusaiga. He later dies and takes a piece of the Shikon shard to the underworld. He has the ability to communicate with jewels of all kinds.
Gakusanjin
voices: Tamio Sobami & David Kaye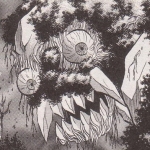 A rock demon who has lived most of his life in a peaceful seclusion, masquarading as a mountain. Gakusanjin possesses the Fuyoheki, a stone that hides his aura and allows him to remain undetected. Naraku steals the Fuyoheki so that he can benefit from its power. With the Fuyoheki gone, Gakusanjin is easily discovered and murdered by the Gyoja.
Catfish Demon
voices: Chafurin & Jason Simpson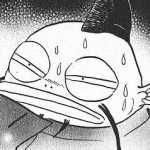 This catfish demon, the Master of the Lake, has the same taste in women as Miroku and plans to marry the monk's former love, Shima. Upon meeting Sango the tubby demon decides he would like her to be his lover on the side.
Shima
voices: Natsuko Kuwatani & Kelly Metzger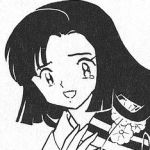 Shima is an old friend of Miroku's who has become engaged to the catfish demon. When Miroku re-enters her life, she wants to run away with him.
The Gyoja
voices: Rena Mizushiro/???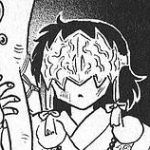 Seven boys, all orphaned due to the murder of their parents by demons come to live with the strange man named Goryomaru. In service to him, the boys become Gyoja, and roam the countryside killing any demons they come across. Because they are only children they are not very effective as fighters, but their powerful jars filled with the spirits of demons more than make up for their abilities as warriors. The Gyoja are responsbile for the death of Gakusanjin.
Medicine Demon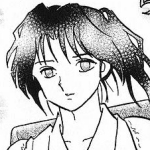 This demon is an expert in the medicinal arts. Sango and the others track him down after Miroku has been poisoned by Naraku's saimyosho wasps. The demon is actually a cursed mosquito that has been changed into the form of a man. After sucking Sango's blood he is able to return to his true form.
Ryujin
voices: Hajime Iijima/???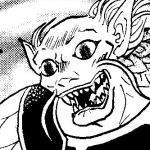 A dragon demon who's scaled hide was used to forge the powerful blade, Datsuki. He searches the land for Toshu, the swordsmith who has reniged on their deal and stolen the Datsuki for himself. Ryujin's armor and and giant shield provide him with incredible defensive power.
Mizuchi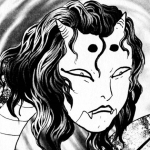 This water serpent has a deadly poisonous breath that causes Inuyasha some trouble. In their battle, Inuyasha uses the Dakki powered Tetsusaiga for the first time, winning the battle, but almost losing his life in the process.
Meioju
voices: Tadahisa Saizen/???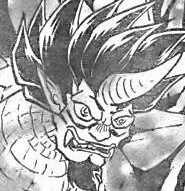 Resurrected from death by Moryomaru, Meioju's shell is rumored to be the most invincible material known to man. However a piece of his shell was removed and with that his fate was sealed. Moryomaru gains control of his body and forces him into battle with Inuyasha. Through his manipulation Moryomaru forces Inuyasha to use the Kongosoha to kill the vulnerable Meioju once more, but with that attack, Moryomaru gains access to both Meioju's strong body and Inuyasha's most powerful attack.
Numawatari

Numawatari is a living lake who seems to be indestructible. Although Inuyasha is unable to harm the demon, Sesshomaru's new attack is able to open a dimensional portal to transport him away.
Yoreitaisei
voices: Ichiro Nagai/???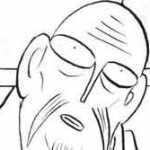 Yoreitaisei is an unusual hermit who teaches Inuyasha how to sense whirlpools of energy, which allow him to destroy his enemies easily. Initially Yoreitaisei seems to be missing all his bones and internal organs which makes him resemble a loose sheet of skin.
Gennosuke
voices: Kaya Miyake/???
Gennosuke lives in Yoreitaisei's village. When the old man's power is stolen, reality becomes warped throughout the town, and Gennosuke seems to be one of the few unaffected humans.
Demonic Noble Woman
voices: Takumi Kurebayashi/???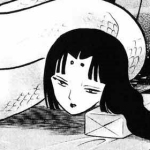 The noble woman of Yoreitaisei's village seems to be the the one responsible for devouring the old man's organs. Inuyasha must defeat her without using Tetsusaiga in order to break the curse that has infected the town.
Kai
voices: Yuka Nishigaki/???

Kai lives with the northern Wolf Demon Tribe and is witness to their slaughter by a vicious badger demon under the command of Byakuya. The entire tribe is murdered, save Kai and his younger brother Shinta. Byakuya outfits Kai with a chain weapon, and a Shikon shard then orders him to murder Koga and bring back his shards in exchange for Shinta's life.
Shinta
voices: Momoko Saitou/???

Shinta is Kai's younger brother, who is kidnapped by Byakuya and held as ransom in order to obtain Koga's Shikon Jewel shards.
Yomeiju

Sealed by a powerful monk thirty years ago, Yomeiju was thought to be inactive. Yet the seemingly dead tree continued to grow larger for many years. When a monk tried to reseal it, the tree killed him. Inuyasha was ready to chop Yomeiju down with Tetsusaiga when a barrier protected it. Naraku appeared and allowed the tree to devour him. Instead of being eaten, Naraku absorbed the tree and gained the ability to penetrate the Infant's barrier.
Sesshomaru's Mother
voices: Yoshiko Sakakibara/???

Out of her son's life for years, Sesshomaru's mother returns to tell her son about his mystical blade Tenseiga.
Kao
voices: Kazuki Yao/???

A powerful demon who feeds on the sorrow of others. Kao's abilities are so strong that he has managed to enchant an entire village. He comes across the group soon after they have survived a great tragedy and attempts to use Inuyasha's feelings against him.
Mirror Demon

The living incarnation of Kanna's mirror. The transformation of her mirror into a physical form is Kanna's ultimate weapon. The Mirror Demon can steal any attack or weapon that is used against it. Using this ability, it has no trouble taking Tetsusaiga's power and using it against Inuyasha.
Bone Demon
voices: Makiko Oomoto/???

A demon with the ability to rip the bones from a person's body through their mouth by simply placing her hand in front of the victim's face. The demon encounters Sango and Miroku and manages to trap them in an attempt to steal Hiraikotsu for her father.
Bone Demon's Father
voices: Kiyoyuki Yanada/???

A mortally wounded demon who needs bones to heal his wounds. After seeing Hiraikotsu the demon believes that it will cure him instantly and sends his daughter to lure Sango back to their castle.
Yakurodokusen
voices: Minoru Inaba/???

A drunken demon sage who spends most of his time in large urns of sake. Totosai sends Sango to him in hopes that Yakurodokusen can help her fix her damaged Hiraikotsu.
Shishinki's Assistant
voices: Mitsuhiro Ichiki/???

Shishinki's assistant lures Sesshomaru into his master's trap. His eyes resemble the voids his master creates with is Meido Zangetsuha technique.
Hitomiko
voices: Fumiko Orikasa/???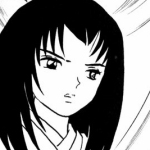 Hitomiko is a beloved miko who is murdered by Naraku and then kept alive and used in a plan to kill Kagome. Hitomiko is not in control of her body after her resurrection but is able to communicate and aides Kagome in defeating Naraku.
Kitsune
voices: Kikumi Umeda/???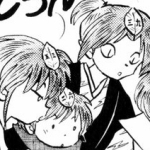 This sly trio of young fox demons befriend Shippo when he stumbles into the forest where the kitsune ranking examination is being held.
Miroku's Father

Miroku was a young boy when his father's Wind Tunnel grew too large and devoured him. With the loss of his father, Miroku was raised by Mushin.
Miroku & Sango's Children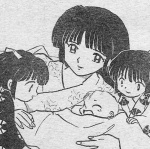 After all is said and done, Miroku and Sango settle down and have a family. The have three children, two twin girls and a newborn baby boy.
Head of Roots

Months of peace are interrupted when this root demon finally breaks free from Kikyo's decades old imprisonment.