Maison Ikkoku began its run on Fuji TV on March 26, 1986 and ran until March 2, 1988. Of all of creator Rumiko Takahashi's series, it is by far the shortest. Because the anime debuted so long after the manga began, it allowed the animators to have a very strong sense of pacing. They were able to see far enough ahead in the series that they could craft each episode without having to wait for Takahashi's weekly manga chapters to be published. You can click here for an article discussing the various series directors and art directors involved in the production of the series.
Highest Rated Episode: 01 - 22.1% audience share
Average Rating: 16.2% audience share

1986
The Core Remains Unchanged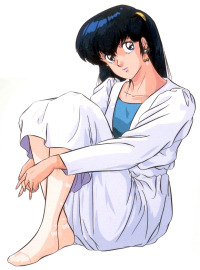 The crew that worked on Maison Ikkoku was already very tight knit, having worked together on Urusei Yatsura since 1981. Among the key staff members were director Kazuo Yamazaki, episode director Tomomi Mochizuki, character designers Yuji Moriyama and Akemi Takada, and musician Kenji Kawai.
Kazuo Yamazaki became famous as an assistant director for Rumiko Takahashi's first animated series, Urusei Yatsura. After famed director Mamoru Oshi left the series in 1984, Yamazaki took over the director's chair. He helped increase Urusei Yatsura's popularity to new heights and when it was announced that Takahashi's next series was going to be animated, he and his staff stopped production on Urusei Yatsura and seemlessly moved on to Maison Ikkoku. 1986 was a very busy year for Yamazaki and his staff, as they dealt with ending the Urusei Yatsura television series, directing the fourth Urusei Yatsura movie, Lum the Forever, directing the first Urusei Yatsura OVA, Ryoko's September Tea Party, and beginning Maison Ikkoku. A lesser director may have struggled, but it is a testament to Yamazaki's ability as a director that he not only managed to produce all this work within a year, but to do them all exceptionally well. After Maison Ikkoku, Yamazaki went on to direct fan-favorite series such as A Wind Named Amnesia, City Hunter, Project A-ko, Please Save My Earth, and has most recently contributed storyboards to Argentosoma.
Tomomitsu Mochizuki began directing episodes of such series as Magical Angel Creamy Mami before getting a shot at Maison Ikkoku in 1986. During his run on Maison Ikkoku, Mochizuki also directed episodes of Kimagure Orange Road, and eventually directed that series first movie. His work on these series enabled him to hone his talent and eventually he went on to become the series director of Rumiko Takahashi's next series, Ranma ½.
Composer Kenji Kawai is one of the most sought after musicians in anime. His credits include Ranma ½, Patlabor and its movies, and Ghost in the Shell, he is director Mamoru Oshi's go-to-guy when it comes to music for his work.

1986
Shake Ups
Kitty Animation, the studio behind Maison Ikkoku had their own record company and was eager to promote one of their American artist's in Japan. The studio insisted that Gilbert O'Sullivan's songs be used in the series, and the animators were forced to rush out new opening and ending videos with very little time. The episode in which they were featured would be character designer Yuji Moriyama's last as he went on to pursue other interests. However Moriyama was not finished with Maison Ikkoku however, and came back to provide very different character designs for the final movie. With Moriyama gone, the series was left in the very capable hands of Akemi Takada, who would go on to become one of the most famous character designers in the Japanese animation world. Her other credits include Urusei Yatsura and its movies, Patlabor, Kimagure Orange Road, and most recently Magical Stage Fancy Lala.

1988
The Doors Close
The series managed to survive through ratings declines, crew changes, and the busy schdules of some of the most in-demand voice actors of the 80's. Maison Ikkoku came out as a masterpiece of animation, and is widely hailed as one of the most beloved anime of all time. Rightfully so.