Maison Ikkoku only has one true original special, the Shipwrecked on Ikkoku Island OVA. However there are a few compilations and music specials that most fans might overlook in their quest to complete their collection.
---
September 25, 1988
Utsuriyuku Kisetsu no Naka de
(Among the Changing Seasons)

This 90 minute OVA is a summary of the entire series, highlighting the events in the tenants of Maison Ikkoku's lives as the seasons change. The special is mostly made up of footage from the televison series, but does have a few clips of original animation.
November 1989
Karaoke Music Parade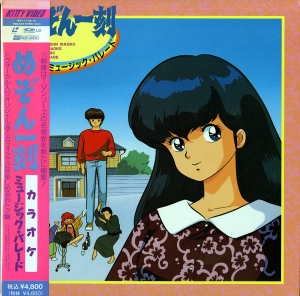 Released in 1989, this is a 30 minute collection of all the opening and ending animation from the television series. Included are Hello Sadness, Alone Again (Naturally), Suki Sa, Sunny Shiny Morning, Hidamari, Will Tomorrow Be Brighter, Cinema, Get Down, Fantasy, Sketch of a Goodbye, and Begin the Night.
January 31, 1991
Ikkoku-kou Nanpa Shimatsuki
(Shipwrecked on Ikkoku Island)

Released in 1990 this 30 minute special is the only 'true' OAV in the series. This is a completely original piece of animation. The story is based on the extra chapter of Maison Ikkoku where the tenants and Mitaka are all shipwrecked on a deserted island due to the usual insane partying by Ichinose, Akemi and Yotsuya. Once they are on the island Kyoko begins sweeping the sand to keep herself busy while Godai and Mitaka compete with one another to catch fish for Kyoko and make sure she doesn't starve. All the while Yotsuya wanders off by himself and finds a nearby resort, where he makes himself right at home, never telling his other castaways of course. The Kitty Animation Circle created an alternate laserdisc cover featuring Kyoko in a bikini for its members.
June 25, 1992
Prelude Maison Ikkoku: When the Cherry Blossoms Return in the Spring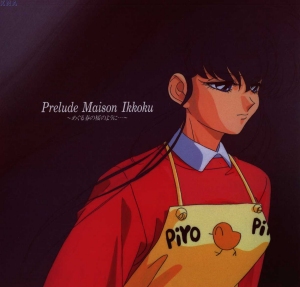 This OVA uses animation from the television series to create Kyoko's backstory. All of her flashbacks of her life with Soichiro are edited together to create a sense of her life before she became the manager of Maison Ikkoku. Beginning with her first encounter with Soichiro as a guest-lecturer at her high school and leading up to his death and her subsequent move to Maison Ikkoku.
December 1993
1994 Music Calendar

Unlike the 1991-1995 calendars, the 1994 editions of all Rumiko Takahashi series were released on VHS. This was put out by the KAC (Kitty Animation Circle), and so it wasn't commercially available in stores. A digest to the TV series with profiles and narration discussing the characters of the series.
May 12, 2007 & July 26, 2008
Live Action Special

On August 7th, 2006 TV Asashi and Big Comic Spirits announced that they were in the early stages of producing a live action Maison Ikkoku television drama. With their first announcement it was revealed that beloved actress Misaki Ito would be portraying Kyoko Otonashi, and that a national casting call was being held for the role of Yusaku Godai. With that, the series was placed in the spotlight and fans waited with baited breath to see how their favorite series would be handled. To the delight of many fans the casting call resulted in Taiki Nakabayashi being cast as Yusaku Godai. Even before the series debuted the cast was praised for their physical matches to the original manga characters. Directed by Katsuhide Motoki, with the original song Mamotte Agetai by Yumi Matsutoya, Maison Ikkoku was an interesting adaptation of Rumiko Takahashi's classic. Unfortunately the special did not garner the ratings that most fans hoped it would in order to continue. Click here for a look at the cast. A second live action special was released with this cast a year later but was not collected on DVD.