1-12|13-24|25-36|37-48|49-60
61-72|73-84|85-96|Top

Episodes 1 - 12
Click Here to Purchase Set One

Opening Theme: Hello Sadness (1-37)
Ending Theme: Will Tomorrow be Brighter? (1-14)
Series Director: Kazuo Yamazaki
Executive Producer: Hidenori Taga
Music: Kenji Kawai & Takao Sugiyama
Character Designs: Yuji Moriyama
Art Director: Chitose Asakura
Director: Kazuo Yamazaki
---
Overview:
Maison Ikkoku debuted on March 26, 1986 a week after the final episode of Urusei Yatsura aired. The series retained much of the same staff and crew, so you can imagine the hurried pace of finishing one series, getting the production of a new series started, and writing and animating Urusei Yatsura Movie 4: Lum the Forever all in a matter of months.
---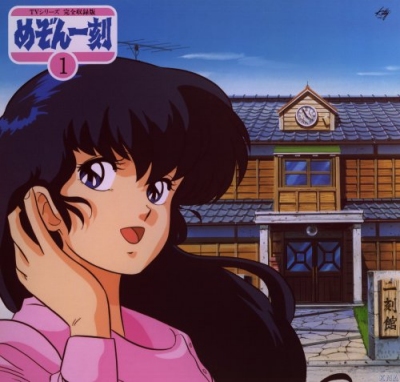 Episode 1 3/26/1986
Omatase shimashita! Watashi ga Otonashi Kyoko desu!!
Sorry To Keep You Waiting! I'm Kyoko Otonashi!
Yusaku Godai is fed-up with life as a ronin and his horrible housemates, namely loud and brash Mrs. Ichinose, her bratty son Kentaro, sexy Akemi Roppongi, and the mysterious Yotsuya. As he finally packs his bags and heads for the door he meets Maison Ikkoku's new manager...Kyoko Otonashi. Its love at first sight for Godai, so he toughs it out in order to get to meet the gorgeous new manager a bit better.

Episode 2 4/2/1986
Koi no hibana pachipachi! Kyoko-san wa dare ga suki?
Love is in the Air? Which one Does Kyoko Love Best?
Godai decides that since its Kyoko's first Christmas at Maison Ikkoku, this would be a great opportunity to buy her a present and tell her how he feels. As will become the norm, he chickens out when the Ichinose's arrive. Meanwhile, he learns from Akemi that Kyoko is already seeing someone and these suspicions are confirmed when he finds a sleeping Kyoko mention someone named "Soichiro" on the roof.

Episode 3 4/9/1986
Kurayami de dokkidoki Kyoko-san to futari kiri
Hearts on Fire in the Dark! All Alone with Kyoko
With his entrance exams bearing down on him, Godai just can't seem to focus. Kyoko decides its up to her to stop the other tenants from interrupting his studies, but what she doesn't know is that Godai's thoughts slip everytime she's in the room. And just as things are about to settle down...the power goes out. Kyoko's determined to fix the problem and Godai offers his help, but is he really trying to be a good tenant, or does he want Kyoko all alone in the attic?

Episode 4 4/16/1986
Kyoko-san harahara?! Godai-kun wa juken desu
Kyoko's Heart Goes Pitty-Pat! Godai is put to the Test
Test time has finally arrived for Godai. As he does all the last minute cramming he can get away with Yotsuya, Ichinose, and Akemi take bets on which school's will reject him. Kyoko does her best to keep them out of Godai's way, but it doesn't do any good. As Godai heads off to take his tests, he misinterprets Kyoko's words of encouragement as a sign of affection, and can't stop thinking about it long enough to do well on a single test. With only one school left, Godai faces another year as a ronin, or overcoming all his distractions to become a full-fleged college student.


---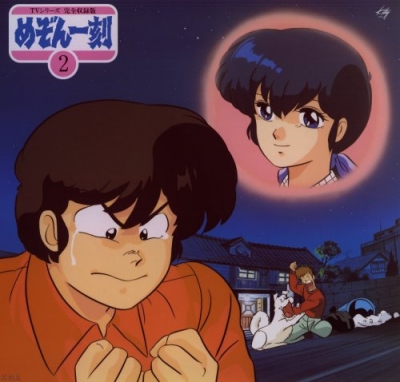 Episode 5 4/23/1986
Kyoko-san yakimoki! Godai-kun ga iede shita
Kyoko's Climbing the Walls! Godai's Headed For the Hills
Godai's grandmother arrives to inform Godai that if he doesn't get into a college, his family will no longer let him stay in Tokyo. Godai does his best to hide from her, but with Kyoko's help they finally track him down, just in time to realize he's going to get to go to college.

Episode 6 4/30/1986
Haru wa shocking! Kyoko-san no himitsu!!
Shocking Springtime! Kyoko's Secret
The secret sadness that Kyoko has kept hidden for so long is finally revealed as Godai realizes that Kyoko is a widow. Visiting Soichiro's grave, Godai asks for whom he is offering incense ad realizes that it is Kyoko's late husband. Afterwards, as the two of them walk home, Godai can't help but feel that he has no chance to win Kyoko's heart from a dead man.

Episode 7 5/7/1986
Godai-kun nayamimasu! Kyoko-san no sukina hito
Godai's Agony! The One Kyoko Loves
Mr. Otonashi offers Godai a job tutoring Ikuko, who insists that if she is to have a tutor that it must be Godai. Seeing this as a way to endear himself to Kyoko and to earn a steady paycheck, Godai agrees. Kyoko begins to worry when the other tenants put the idea in her head that Godai might have a thing for Ikuko, and tries her best to resist the idea of Ikuko having a new tutor.

Episode 8 5/14/1986
Godai-kun ikenai zekkyo Yaru toki wa yarimasu!
Godai's Unspeakable Declaration! If You're Going to Do It,Do It!
Celebrating their arrival into college life, Godai and Sakamoto go out drinking. Feeling depressed about his situation with Kyoko, Godai confides in Sakamoto, who recommends a bit of liquid courage to help Godai tell Kyoko how he feels. Once they arrive back at Maison Ikkoku, Godai not only tells Kyoko how he feels, but the entire neighborhood as well. After his announcement, he marches off to his room with Kyoko in his arms, seemingly ready for a night of passion!


---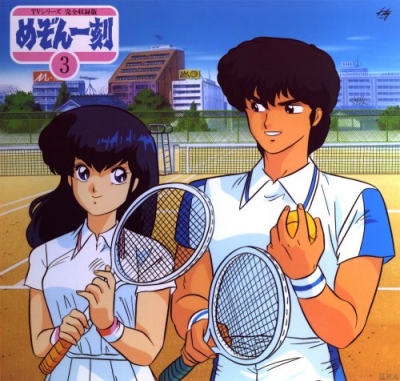 Episode 9 5/21/1986
Nazo no tennis coach wa koi no rival desu!
The Mysterious Tennis Coach is the Rival of Love
Mrs. Ichinose decides that Kyoko's been much to glum lately with worrying about Godai's confession and her always looming regret over Soichiro's death, so she signs them both up for tennis lessons. The neighbors confide that the tennis coach is someone they'd have no problem leaving their husbands for. The tennis coach, Shun Mitaka, upon meeting Kyoko instantly becomes enamoured with her, and little does Kyoko know, but Mitaka will become the man she'll come to depend on quite a bit over the next few years, and after Godai's recent antics, she has no problem accepting his friendly overtones.

Episode 10 5/28/1986
Nagisa no love panic! Rival wa inu girai!!
Love Panic on the Beach!
A depressed Kentaro confides to Godai that his family is too poor to ever take him on a vacation. This reminds Godai of his on youth, when he had to stay and work at his family's restaurant while all the other kids in his class went on their summer vacations. Godai happily agrees to take Kentaro to the beach so that he won't have to suffer the teasing of the kids in his class. Mrs. Ichinose is reluctant to leave Kentaro alone with Godai, so Kyoko offers to go along with them, which Godai decides to use as a chance to get close with the Manager. Soon his happiness fades when Ikuko decides to come as well, and Mitaka arrives at Maison Ikkoku to drive everyone there. Feeling extremely dejected at all the new company, Godai makes the discovery that the children have smuggled Soichiro, the Manager's dog, into the car with them. Pulling over to take a break, Godai learns that Mitaka is deathly afraid of dogs, and discovers his rival's one weakness.

Episode 11 6/4/1986
Kentaro no hatsukoi! Ai ga areba toshi no sa nante
Kentaro's First Love! What Age Got to Do,with It?
Kentaro's time with Ikuko at the beach has developed into a crush on his part. Now everytime Ikuko comes over to study with Godai, he finds a reason to study alongside them. When Kyoko realizes this, she decides to cook them a dinner in hopes of helping Kentaro get to know Ikuko better, but once Godai is invited, the sparks between he and Kyoko seem to overtake those of the children.

Episode 12 6/11/1986
Koi no scramble! sukitte ittanoni...
One Entangled Evening! I Thought You Said You Loved Me!?
Godai decides its finally time to ask Kyoko out for a movie date, but when he arrives at Maison Ikkoku, he finds Kyoko heading out for a night at the opera with Mitaka. Feeling extremely put out, Godai runs into a former co-worker named Kozue Nanao, who he ends up taking out in Kyoko's place. Things really heat up when Mitaka's car breaks down and Godai and Kozue run into Mitaka and Kyoko. The rest of Kyoko's evening is spent angrily thinking about Godai's supposed two-timing, while Mitaka tries to let Kyoko know how he feels about her.

1-12|13-24|25-36|37-48|49-60
61-72|73-84|85-96|Top