1-12|13-24|25-36|37-48|49-60
61-72|73-84|85-96|Top

Episodes 25 - 36
Click Here to Purchase Set Three

Opening Theme: Hello Sadness (1-37)
Ending Themes: Cinema (15-33), Fantasy (34-52)
Series Director: Kazuo Yamazaki & Takashi Anou
Executive Producer: Hidenori Taga
Music: Kenji Kawai & Takao Sugiyama
Character Designs: Yuji Moriyama & Akemi Takada
Art Director: Chitose Asakura
Director: Kazuo Yamazaki
---
Overview:
By this point a lot of behind the scenes crew changes were going on. Likely the most visible was the replacement of Yuji Moriyama with Akemi Takada as character designer. Takashi Anou replaced Kazuo Yamazaki as the series director. Episode directors who had been with the series such as Keiko Hattori and Tsukasa Dokite also left at this point and made room for future Ranma ½ character designer Atsuko Nakajima to step in as animation director on many episodes from this point on.
---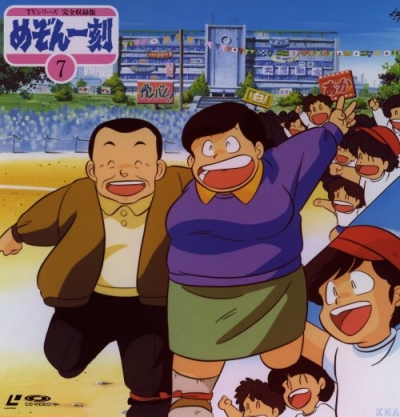 Episode 25 9/10/1986
Gekito! Godai VS Mitaka propose daisakusen!!
In this Corner: Godai vs. Mitaka! The Clash of the Proposals
As Godai watches Kyoko play tennis, Mrs. Ichinose tells him that things won't always stay the same. She mentions that Kyoko quit being their Manager this year and almost quit being an Otonashi altogether. Mitaka walks over and asks what the two are talking about, saying that he can tell just by looking at Kyoko that something is wrong with her. Soon, the entire Tennis Club is over at the fence talking about Kyoko, who finishes her workout and goes over to see what all the comotion is about. As the group covers up their discussion Godai is invited to play tennis with Kyoko in a mixed-doubles match against Mitaka and Ichinose. During the course of the match Mrs. Ichinose tells Mitaka about the recent goings-on at Maison Ikkoku and how Kyoko's family is pressuring her to remarry. Mitaka immediately takes this chance to tell Kyoko that he agree's with her family and that he would like her to be his partner for life, which Kyoko takes to mean his professional tennis partner. The next day, Kyoko and Mitaka go for a drive in the country and end up stopping at an empty beach, where Mitaka proposes again, making sure Kyoko understands him this time. When she comes home that night Godai finds out and as they walk through a local park, he asks her to wait three more years, so that he can graduate.

Episode 26 9/17/1986
Godai bousen! Kyoko no yakimochi daibakuhatsu!!
Godai's Out of It! Kyoko's on the Rampage
Kyoko visits an old high school friend and her new baby for lunch. The topic of conversation centers on how much Kyoko wishes she had had a baby with Soichiro before he died. Her friend tells her how much harder it would be for her to get remarried if that happened, and Kyoko says she isn't very interested in getting married. As she goes back to Ikkoku, Kyoko begins to weigh her options. She realizes that she would like to have a baby before she hits thirty, and that with Godai she would have to wait a few years, but Mitaka and she could get started right away. Ichinose visits her and tells her that Godai is cleaning his room for Kozue, who is making her first official visit today. Kyoko becomes jealous when she hears this, even though Mrs. Ichinose says Godai didn't brag about the visit, she just overheard him on the telephone. As Kozue arrives, Godai tries to sneak her in, but Mrs. Ichinose catches them, and makes sure she gets Godai to say how jealous Kyoko can be while Kyoko is listening. This sends Kyoko into a rage, and when Coach Mitaka calls, she readily accepts a date with him. Kozue and Godai's afternoon is interrupted when Yotsuya breaks down the wall between their rooms again, and scares Kozue into Godai's arms. Later that evening Godai and Kozue leave to go to her parents house and run into Kyoko who is leaving for her date with Mitaka. Godai asks why he isn't picking her up in his car, and Kyoko explains that its in the shop, but that its the man she's dating, not his car, depressing Godai. Mitaka waits for Kyoko outside a Dog Grooming Parlor, when suddenly a dog runs out and gets his pants dirty. A kind young worker brings him inside and tries to get the stain out when suddenly another dog scares him and he jumps into her arms. At that very instant Kyoko walks by and sees him hugging the woman. She becomes so upset that she stands him up and spends the rest of the night playing pachinko. On the way home she meets Godai again and becomes so annoyed by his questions that she throws a can at his head, knocking him down.

Episode 27 9/24/1986
Kieta Soichiro!? Omoide wa yakitori no kaori.
Soichiro Gone!? Yakitori Memories
Kentaro offers to walk Soichiro for Kyoko, but ends up losing him. Kyoko tries her best to reassure Kentaro that Soichiro will find his way home, but in reality she is terrified of never seeing him again. She remembers the day that she and her husband first brought Soichiro home, and how he wouldn't answer to any other name. All the tenants do their best to find the missing dog, and after many false hopes, begin to give up. Finally, Godai finds him at the house of a family a few blocks away and returns him to a greatful and shocked Kyoko.

Episode 28 10/1/1986
Kyoko-san mo bikkuri. Watashi ga Kentaro no chichi desu.
Even Kyoko's Surprised! " I'm Kentaro's Father "
The tenants are shocked when they begin seeing a mystery man leaving Maison Ikkoku. Soon enough they realize that he is none other than Kentaro's father, Mr. Ichinose! After losing his job, Mr. Ichinose begins having trouble finding a new one, meanwhile Kentaro has a parent/child sports meet at his elementary school, but is too embarassed to ask his overweight, alcoholic mother, and recently unemployed father to come, so instead he asks Godai and Kyoko to come as his sister and her husband. Godai is all to happy to accept, but Kyoko feels guilty. Yotsuya finally tells Mr. Ichinose what Kentaro has planned, and the Ichinose's decide to not only compete, but win the three-legged race.


---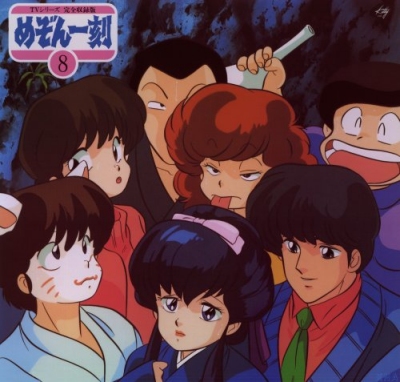 Episode 29 10/8/1986
Hachamecha akimatsuri Kyoko-san to ido no naka.
Fall Festival Foul - Up ! All Swell That Ends In A Well
All the Maison Ikkoku tenants visit a local Fall Festival and Godai and Kyoko even decide to take part in it. A misunderstanding leads to Kyoko falling down a very deep well. Before long Godai realizes that Yotsuya was mainly responsible for the mishap, but when he goes to save her, he gets pulled in as well. Soon Yotsuya drops by but instead of helping, he uses the well in order to partake of his favorite hobby, voyeurism. After he leaves Yotsuya brings Mitaka to the well, but for reasons only known to him, he decides to push him in with Godai and Kyoko. Now a new problem has risen its ugly head...who will help Kyoko get out, and who will stay stuck at the bottom of the well? Soon enough a frightened Kozue climbs down into the well to hide from some locals dressed as monsters, Akemi jumps in to visit with Mitaka, Sakamoto hops in for a visit, Yotsuya returns to join in the fun, and Ichinose drunkenly dives in too! Can Kentaro save everyone else?

Episode 30 10/15/1986
Eh Kyoko-san kekkon!? Godai-kun namida no hikkoshi.
What!? Kyoko Married!? Godai's Tearful Goodbye
Rumors of a wedding between Mitaka and Kyoko are flying, leaving the tenants depressed that they've been kept in the dark. Godai finally decides to confront Kyoko, but a passing train leaves out a key detail, its Mitaka's Sister who is getting married, not Mitaka and Kyoko. A tearful Godai quickly packs up all his things and moves out of Maison Ikkoku before Kyoko can stop him. He finds a new apartment above Galaxy Pachinko and is shocked to find an incredibly sexy girl named Ayako already living there. He finally decides that it won't be too bad living with her until she can find a new place, that is until her Yakuza boyfriend shows up and makes this comfy couple into a terrible three-some. Kyoko is of course too proud to find Godai and tell him what's really going on, but even if she wanted to she couldn't, that is until the movers arrive for Godai's furniture. Getting the address from them, Kyoko visits Godai's new apartment to deliver a package, but instead finds only a half-dressed Ayako.

Episode 31 10/22/1986
Ikkoku-kan scandal Godai-kun ga dosei tyu!?
Scandal at Ikkoku! Godai's...SHACKING UP!?
Kyoko learns that Godai is living with a woman, and thinks that this is the real reason he left. Godai comes back to the apartment and learns that the Yakuza has pawned all his belongings so that he can have money to gamble. After they refuse to move out, Godai hits the streets in hopes of finding a friend he can stay with. He calls Maison Ikkoku, but a dejected Kyoko lies and tells him all the rooms are full. After walking around all night and not finding a place to sleep, he begins to get really sick. Finally stumbling his way back to Maison Ikkoku, the other tenants see him and chance after him, Kyoko finally grabs him and tells him to come home.

Episode 32: 10/29/1986
Tamago wa mystery? Yotsuya no kiken na okurimono
The Incredible , Unforgettable Egg! Yotsuya's Dangerous Gift
Yotsuya entrusts a mysterious egg to Godai in the middle of the night, before mysteriously leaving Maison Ikkoku. The next morning everyone rushes in to Room 5 as they hear Godai's screams of terror. He thought the whole meeting between he and Yotsuya had been nothing more than a strange dream. When he tells everyone what happened, Kyoko and Ichinose are instantly flummoxed about what Yotsuya could possibly want Godai to do with the egg. Should he eat it, or protect it? Akemi decides to steal the egg and feed it to Soichiro, but Kyoko manages to snatch it back just in time. Over the next few days, Kentaro and Akemi both try stealing the egg, Godai worries over what to do before Yotsuya returns, a strange habit of Mrs. Ichinose's is revealed, and Kyoko becomes obessesed with trying to find out how to tell a hard-boiled egg from a raw egg without breaking it open.


---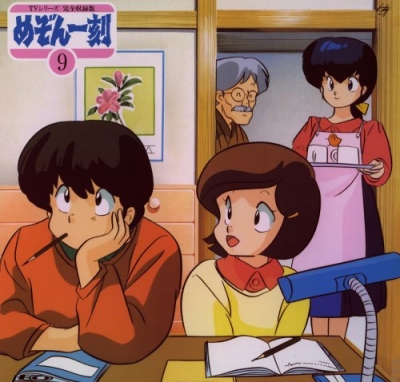 Episode 33 11/5/1986
Nikki ni shock! Soichiro-san ni koubito ga ita!?
The Case of the Shocking Diary My Husband Had a Sweetheart!
After finishing a tutoring session with Ikuko, Grandfather Otonashi asks Godai to return Soichiro's diary to Kyoko. On the trip home, Godai worries about it bringing back memories for Kyoko, and as soon as he gives it to her, it has the effect he was hoping it wouldn't. As Kyoko flips through the diary, she realizes that Soichiro's life was actually fairly boring. All he would write about was the food he was eating. Until one day when he received a mysterious postcard. But the postcard is missing, having fallen into Godai's bag. Kyoko becomes worried that the postcard was from another woman and searches everywhere for it. Godai notices how depressed she's become, but doesn't know why. He thinks the memory of Soichiro is too much for her to handle. A few days later, he finds the card, and returns it to Kyoko, when she realizes it was a simple postcard from her, she is overjoyed.

Episode 34 11/12/1986
Koi wa goin ni! Yukari bachan kinba de syobu
Overpowered by Love! The Grandma Yukari Gold Tooth Gauntlet!
Godai wakes up to rustling noise in his room, when he demands Yotsuya stop it, he opens his eyes to see his Grandmother. To his surprise, he was supposed to pick her up, but totally forgot. She wastes no time in scolding him, and embarassing him in front of Kyoko. When she learns from the Manager that Godai has a girlfriend, she insists upon meeting her. Godai takes her to meet Kozue the next day, and they all make a nice day out of it. Grandma pressures him into asking Kozue to marry, much to Godai's horror, but he gets out of it. When they arrive back at Maison Ikkoku, she demands that Godai choose between Kozue or Kyoko. Godai refuses to discuss it with her, until the other tenants arrive and begin to party. The next day, Grandma Yukari learns about Kyoko's friendship with Mitaka and insists upon meeting him. And so, Yukari attends Kyoko and Mrs. Ichinose's regular tennis class and meets Shun. At first he thinks she must be Kyoko's grandmother, and quickly realizes his charms have no effect on her. But before he realizes who's grandmother she is, he has invited her to his apartment for dinner, along with her grandchild and Kyoko. When he realizes his mistake he is tremendously upset. The following Saturday, Godai, Kyoko, and Yukari arrive at Mitaka's apartment. He wastes no time in showing off his extensive stereo equipment, priceless doll collection, huge bedroom, and elaborate kitchen. Godai is embarassed at how little he has in comparison. But on the way home, a pep talk from his Grandmother sets him straight. He will never give up on his bid to win Kyoko's heart.

Episode 35 11/19/1986
Tsuiseki daisakusen! Kyoko to Godai no date wo nerae
The Great Date Race! Kyoko and Godai Have Left the Building
Godai learns that his Grandma has set he and Kyoko up on a date. When he goes downstairs to apologize to Kyoko, she tells him that she's actually looking forward to it, which really gets Godai excited. As Godai and Kyoko head off on their date, Yuakari gives them their itinerary, and then they head off. The first stop is the movie theater, where they run into Yotsuya, after they escape from him, they go to a toy store, where Kyoko gets very excited and plays with everything. Suddenly Mrs. Ichinose and Kentaro walk up and talk to the two. Godai begins to get suspicious and pulls Kyoko out of the store. They hide for a second and then decide to go get lunch, at the restaurant they sit down next to Akemi and Master, and then they know something is really up. They run out of the restaurant and everyone gives chase. They finally catch a break, but it doesn't last for long as the tenants find them again. The rest of the day is spent escaping the Looney Gang. Godai apologizes for the ruined date, but Kyoko says she can't remember when she's had more fun. At home, the tenants report to Yukari that it didn't look like Godai and Kyoko had any fun, because all they did was run away. When Godai shows up though, he can't stop smiling.

Episode 36 11/26/1986
Ikinari kiss no arashi! Akemi-san no shitsuren monogatari
A Kiss Is Just A Kiss... But a Woman's Love is Priceless
Akemi sits in her boyfriend Hiroshi's car as they watch the ships coming into the docks. Suddenly he tells her he's breaking up with her, and Akemi finds another womans earring on the seat. She keeps her cool, and simply walks away. When she arrives at Maison Ikkoku though, she is completely drunk. When she passes out in the entryway, Godai and Kyoko have to carry her up to her room. She wakes up in a daze and kisses Godai. Kyoko starts telling her to pull herself together, and Akemi kisses her! Then Akemi tosses them out. Godai and Kyoko nervously stand in the hall, wiping the lipstick off their lips. The next day, Godai asks Akemi if there is anything he can do for her, but Akemi can't remember why he would ask something like that. Later she does remember and goes downstairs to apologize to Kyoko. In town, Akemi and Godai pass each other on the street, and she gives him a lighter that Hiroshi had given her. Godai begins to think that maybe she likes him, and so he nervously wonders what he should do. At Chachamaru, Akemi gets a mysterious call and runs out. The phone rings again and Yotsuya answers it. Its Hirosh, and he and Yotsuya meet so that he can try and get Akemi back. Hiroshi waits outside Ikkoku to try and see Akemi, but when Godai comes down, he drives off. Finally, Akemi decides to see him again, and he tells her he was crazy for leaving her. They decide to leave town together, and arrange to meet at the docks. Akemi leaves Maison Ikkoku the next morning and Godai walks her to the train station. After he helps her with her back, she remembers what a nice guy he is. She spends all day walking around Tokyo, waiting until the appointed time that she's supposed to meet Hiroshi. She waits all day and finally decides that he isn't worth it. Meanwhile, everyone is at Chachamaru, worried about Akemi, wondering where she could be. She suddenly walks in and everyone is relieved to see she's okay. She settles in for a drink with them, finally feeling like her old self again.

1-12|13-24|25-36|37-48|49-60
61-72|73-84|85-96|Top