1|2|3|4|5|6|7|8|9|
10|11|12|13|14|15 Top

Maison Ikkoku
volume 4 - Halfway Up the Hill
Click Here to Purchase

| | |
| --- | --- |
| | Big Comic Spirits 1982 Jun 30-Nov 30 |
Published in English as:
Maison Ikkoku Part 3 Number 1-6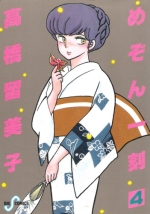 Chapter 33: あれがいい
Are ga ii
(Catch of the Day)
At the tennis courts, Mitaka tries to get some gossip from Mrs. Ichinose about why Kyoko stood him up for their date. Mrs. Ichinose tells him to ask her himself, and Kyoko gives him a very cold response. Unfortunately things aren't much better for Godai either. As he sits alone at Maison Ikkoku, Kyoko's mother happens to show up, and since Kyoko isn't home Godai hopes to score some points by taking Mrs. Chigusa to the tennis courts. On the way there, she asks if there is anyone that Kyoko is interested in romantically, but her question is soon answered as she meets Mitaka for the first time. Mrs. Chigusa, Godai, Mitaka and Mrs. Ichinose all have an impromptu lunch meeting where Mitaka and Mrs. Chigusa get to know each other. In fact, Kyoko's mother is so impressed with Mitaka that she decides that there is no reason for Kyoko to quit her job anymore. When Kyoko's father hears about the suave tennis coach, he doesn't exactly share his wife's feelings. A few days later Mr. Chigusa sneaks off to Maison Ikkoku in hopes of finding Kyoko and getting a glimpse of Mitaka for himself, but as fate would have it Godai is the only one home once again, and he ends up spending the evening getting drunk with Mr. Chigusa, once again trying to score some points with Kyoko. Things don't quite go according to plan, as by the end of the night, Godai and Kyoko have to help her drunken father stumble home.
Chapter 34: SOPPO
SOPPO
(Turn the Other Cheek)
Godai begins to wonder if Kyoko could possibly be jealous of his relationship with Kozue. Akemi points out that he appears to be using them both at which point Godai is convinced that he has to break off his relationship with Kozue. During their date he finally works up enough courage to finally end things when suddenly the couple at the next table begin to break-up with each other, causing a scene. Kozue and Godai look on with the rest of the restaurant and so Godai's plan is foiled. Mitaka on the other hand is deciding to stay out of Kyoko's way and let her work through her jealousy in her own time, saying that the fact that she is jealous is good enough for him. Godai decides to stop eating at with the Nanao's, but the lack of food puts him in a bad mood and Kyoko begins to think that all her sarcastic remarks toward him have finally soured his disposition towards her. Kyoko and Akemi spend a day together and Akemi manages to make Kyoko realize that she's been too hard on Godai and Mitaka. She begins to feel that they both may have become fed up with her attitude as of late and decided to move on. When she gets back to Maison Ikkoku a phone call from Mitaka asking her out makes her feel much better, and Godai finally gets enough money for food and so his mood improves as well, the love triange between the three is back to normal.
Chapter 35: ふりむいた惣一郎
Furimuita Soichiro
(Soichiro Turns Around)
Ikuko is busy studying with for her upcoming finals with Godai, when she decides to mention that Grandpa Otonashi has been mentioning something about Kyoko getting remarried. Yusaku tells her that he doesn't think she'll be remarrying anytime soon, but Ikuko is worried about what that would mean for her relationship with her aunt. As Kyoko walks her home, Ikuko asks if she still thinks of Soichiro, and the topic turns to why Kyoko named her dog after her husband. Kyoko fondly remembers calling out to her husband for dinner and their mangy adopted dog always responding, Soichiro was the only name he would ever answer to. A few days later Kentaro rushes home in a panic, while he was walking Soichiro for Kyoko, the dog smelled some yakitori and managed to run away in search of it. Kentaro is beside himself with regret over losing Soichiro, but Kyoko tries to reassure him that he'll find his way back. Days pass and Soichiro never returns, everyone's searches are in vain and Kyoko begins to lose hope. She finally remembers hugging Soichiro after her husbands funeral, and misses him more than ever, when suddenly she spies Godai walking ahead of her with a mangy white dog at his side, it's Soichiro, walking just as he was the very first time she saw him with her husband.
Chapter 36: ショッキング・ジョッキ
Shokkingu * jokki
(A Bunch of Mugs)
At the supermarket Kyoko runs into Sakamoto, Godai's college friend. He and Godai have gotten jobs at a local pub for a week and so Sakamoto will be staying in Room 5 for the duration of his job. Sakamoto is instantly smitten with the beautiful manager, and wastes no time in telling his buddy about it. Back at Ikkoku, Kyoko invites the new house guest for dinner in her apartment, and Godai can tag along if he wants. Godai begins to get a bit jealous when Sakamoto starts to flirt with her, and the two friends end up offering to treat her to a few drinks at the bar they're working at. By the end of the night the entire house knows about the offer Kyoko received, and so the next night the entire household shows up for 'free drinks' at Godai's expense.
Chapter 37: 祭りの暗い片すみで
Matsuri no kurai katasumi de
(The One That Got Away)
Festival season approaches and Godai begins to feel a bit homesick. When he arrives back home he finds a package from his parents waiting on him, containing food and a yukata (summer kimono). The yukata gives Godai some ideas of spending a romantic summer evening with Kyoko at the festival, but the actual day turns out much worse than planned with Kozue, Mitaka, and the other tenants tagging along. At the festival Godai reveals one of his hidden talents, festival fishing! He manages to win a few goldfish for the girls and tries not to be too insulted with Akemi and Yotsuya's teasing. In the midst of the crowds everyone gets seperated, with Yusaku and Kozue ending up alone, and Mitaka and Kyoko doing the same. As they search for each other both couples end up in a romantic spot and almost share kisses except for the discovery of one another. Kyoko finds herself somewhat relieved that Godai didn't end up kissing Kozue after all.
Chapter 38: 夏の思い出
Natsu no omoide
(The Big Announcement)
Kozue meets some friends for girl talk and learns that one of them lost her virginity over the summer. The girls begin to question Kozue about her relationship with Godai and learn that they haven't done anything yet. She begins to wonder if its weird that after a year of dating they haven't moved further along. When she meets Godai she tells him that she'd like something to remember the summer by. Yusaku is confused at first, but Akemi and Yotsuya quickly convince him that sex is what Kozue is after. Godai becomes frustrated thinking that he would only be leading Kozue on if he slept with her. He also realizes that while he is still a virgin, because Kyoko was married, she obviously is not. Sakamoto isn't any help for Godai, telling him that he should definetely sleep with Kozue in order to get some practice before trying to be with the more experienced Kyoko. The next day Kozue calls Godai over to her house, and when he gets there he realizes everyone else is gone. She asks him to take off his shirt, but soon he realizes that she just wanted him to wear a matching shirt so that she could take him to show off to her friends. As their date ends, Godai realizes that if he hadn't met Kyoko he would be in love with Kozue.
Chapter 39: 事件
Jiken
(The Incident)
The housewives tennis club overhears a conversation between Kyoko and Mitaka and take it to mean that Kyoko has accepted Shun's marriage proposal, when in actuality she has only promised to help his sister with her upcoming wedding. Later that night at Maison Ikkoku, when Godai hears the rumor he doesn't believe it at first, but the next day he and Kyoko are walking home together and he asks her about the wedding, and only hears a confirmation from Kyoko before a train zips past, blaring too much noise for him to hear the truth of the situation. Godai wastes no time in heading back to his room at Maison Ikkoku, packing his things, and moving out, telling Kyoko that he can't be he can't congratulate her but he hopes she'll be happy. With that Godai leaves his home at Maison Ikkoku.
Chapter 40: 狭い宇宙
Semai uchu
(A Small Space)
Kyoko learns the truth about why Godai left and tries to rally the tenants to help get him to come back to Maison Ikkoku, but they are less than enthusiastic about offering their help. Meanwhile, Godai tries his best to move on. He finds a new apartment but when he moves in he is shocked to find a sexy girl is still living there. Her name is Ayako, and she explains that she is without a place to stay and needs to room with him for at least two weeks. Godai finds the idea of living with an attractive woman to be an added perk and agrees to let her stay. Soon though, Godai finds himself in a living hell as he learns that she works at a 'massage parlor' and things go from bad to worse as her goonish boyfriend shows up and threatens Yusaku's life. By the end of the night, he learns that the boyfriend has a gambling problem, and neither he nor Ayako will be leaving any time soon.
Chapter 41: 誤解の方程式
Gokai no hoteishiki
(Recipe for Misunderstanding)
A month has passed and no one from Maison Ikkoku has heard from Godai since he moved away. All of his furniture is still in Room 5 however, and when the mail comes, a package from his family arrives with it. Kyoko begins to try and think of a way she can trace him, using the package as an excuse to see him and tell him the truth about she and Mitaka. When the movers finally show up to take all of Yusaku's furniture away, Kyoko gets his new address from them and learns that Godai is only one train stop away from Ikkoku. Meanwhile, Godai is battling it out with his freeloading roomates. Ayako and her boyfriend try to convince Godai to give them some money so that they will be able to move out, but he refuses. While spending the afternoon at the pachinko parlor downstairs Yusaku runs into Yotsuya. Yotsuya lies to him about everything that has happened, telling him that no one at Maison Ikkoku has even missed him, but he does mention that Kyoko and Mitaka aren't getting married. Unfortunately while they are talking Kyoko arrives to bring Godai his package, but he isn't home and Ayako answers the door. When Godai learns of this he rushes to find Kyoko, hoping to get his room at Ikkoku back, but he catches her just as the train door closes, and he can see how angry she is with him for shacking up with another girl.
Chapter 42: 明るい5号室
Akarui 5-gô shitsu
(The Light in Room 5)
Mitaka learns that Godai has moved out of Maison Ikkoku and discovers that he was central to the decision. Kyoko convinces herself that the reason Yusaku left was not because of the misunderstanding about her 'wedding' but because he had already been seeing Ayako ahead of time. Yusaku finally musters up enough courage to call Kyoko, but she hangs up on him. Depressed, he wanders back to his apartment to find that all his furniture has been sold to pay for his greedy roomates' dinner. Godai has no choice but to get his room back, but decides it would be safer to go through a third party. At Chachamaru, he meets Akemi, Yotsuya and Mrs. Ichinose, and they assure him that they will relate the true story about he and Ayako to Kyoko, but they get so drunk that they forget most of the key details and end up only enraging Kyoko more. When Godai calls about getting his room back, the Manager informs him that all the rooms have been rented. Later on, Kyoko runs into the Chachamaru Master who tells her the real story about Godai's apartment. Kyoko feels horrible, but the damage is already done. That night Godai sneaks back to Ikkoku and hears a party in his room, he is convinced there is no hope for him moving back.
Chapter 43: 坂の途中
Saka no tochu
(Down the Home Stretch)
Kyoko goes in search of Godai and learns that he hasn't been to his new apartment in almost a week. Back at Ikkoku, the Mrs. Ichinose finally gets Kyoko to admit that she lied to Godai and told him that all the rooms were occupied. Akemi and Mrs. Ichinose decide to let Kyoko find Godai on her own, but she isn't having any luck. Mr. Otonashi says that the last he heard from him, Godai was really sick and had to cancel his tutoring session with Ikuko. Meanwhile, Godai has been living with Sakamoto the entire time, but has been too sick to go out. When Sakamoto has a date, Godai has no choice but to find somewhere else to stay, and once again he ends up at Maison Ikkoku. Kyoko seems him and chases him down the street, begging him to stop running. She pleads with him to stay and tells him all the rooms are available. Godai and she both break down into tears as he agrees to move home.
1|2|3|4|5|6|7|8|9|
10|11|12|13|14|15 Top