Mermaid Saga was an unlikely series for adaptation due to it's infrequent release as a manga, it's short length, and it's rather inconclusive ending. Despite all this, the series has been adapted both into a twin set of OVAs and a short-run television series.

1991-1993
The OVA Boom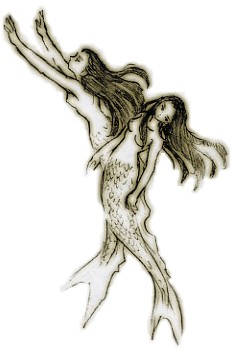 During the late 1980s and on through the mid-1990s OVAs (Original Video Animation) were a popular medium in the anime industry. Essentially they were straight-to-video releases that had the benefits of a slightly larger budget and lengthier development window. The quality of an OVA was a step up from television, while not quite reaching the expensive heights of an animated theatrical film.

"Mermaid Forest" was the first of two OVAs released from Mermaid Saga. Developed by Victor Entertainment and Studio Pierrot (of Urusei Yatsura fame). The OVA mixed elements of the "Mermaid's Forest" story with bits from "A Mermaid Never Smiles" to flesh out Yuta's background. Directed by Takaya Mizutani who is primarily known for his work on Pokemon and Steel Angel Kurumi and with music by frequent Takahashi collaborator Kenji Kawai (Maison Ikkoku and Ranma ½), it introduced the world to Takahashi's darker, more violent sensabilities.

Two years later, another OVA was released- "Mermaid's Scar". The sequel bore little resemblance to it's predecessor with character designs now handled by Kumiko Takahashi (no relation to Rumiko Takahashi), which were staunchly in the Atsuko Nakajima vein of Ranma ½ OVAs which were also being released at this time. Both "Mermaid's Scar" and Ranma ½ have the honor of being Viz Media's first anime releases in 1993. The director, Morio Asaka, would later find fame as the director of Cardcaptor Sakura and the mega-hit NANA.

2003
Back From the Dead
Coming as quite a surprise to many fans, a decade after the final OVA was released TMS Entertainment announced they would be releasing Rumiko Takahashi Anthology, an animated series based on Takahashi's short stories to be followed by Mermaid's Forest, a new television series based on the Mermaid Saga. This time nearly the entire manga series was animated (with the exception of the intensely violent "Yasha no Hitomi/Mermaid's Gaze" storyline. Although thirteen episodes were made, only eleven aired, most likely due to the graphic nature of the final episodes. The show aired Saturday nights at 11:55 on TV Tokyo.
Episode Ratings
1. 2.7%
2. 2.9%
3. 2.1%
4. 2.3%
5. 1.8%
6. 2.5%
7. 3.2%
8. 1.8%
9. 1.4%
10. 1.8%
11. 1.7%
12. Unaired
13. Unaired