Natsume died as a young girl, and her father was overcome with grief. A monk found the man and was heartbroken when he heard the story. He invited the man to bring his daughter's bones to his temple where he would attempt to resurrect her using a technique called "Hangon." Because he was inexperienced, the monk used a mermaid's liver in the process. Not only did Natsume come back to life, but because of the liver she was granted immortality.



In his quest to find a mermaid, Yuta meets Natsume and her father and learns that the monk has been hunting them. When he meets the monk, Yuta agrees to try and help the situation, but Natsume quickly takes a liking to Yuta and asks if she can travel with him. Natsume's father becomes very angry about this and tries to kill Yuta in order to keep Natsume with him.

With her father dealing with Yuta, Natsume is left unprotected against the monk, who is able to rip her liver out. Natsume's father jumps off a cliff, deciding to die with his daughter, but Natsume lives just a bit longer and tells Yuta goodbye before her body returns to bones.
---
The Meaning Behind the Name
Because Natsume's name is only shown in hiragana, it is difficult to discern a meaning. "Natsume" is a type of tree known as the Jujube in English.
Voices:
Kazuko Sugiyama & Monica Rial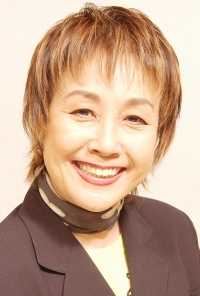 Kazuko Sugiyama is best known to Takahashi fans as Ten from Urusei Yatsura. She also played the minor part of the circus manager in Ranma ½. Her other roles include Makoto in Makoto-chan, Ganmo in Gu Gu Ganmo, Akane in Dr. Slump and Francois Alnul aka 003 in Cyborg 009.

Monica Rial has quite a few major credits under her belt, including Ai in Crayon Shin-chan, Chelsea Moore in Coyote Ragtime Show, Misuzu Kamio in Air and Eve Tokimatsuri in Megazone 23.