Many of these characters appear in one or two storylines throughout the manga and do not reappear again. Even though these characters most often are not recurring, they do play an important role in the storylines in which they appear.
---
Old Washer Woman
voices: Reiko Suzuki & ???
This elderly woman, can almost always be seen cleansing the outside of her house by pouring water on the sidewalk. More often than not, she accidently splashes Ranma.
Bess, the Yamane's Dog
When Ranma first realizes that Ryoga is cursed, he believes him to be this dog. Akane explains that the dog, Bess, belongs to the Tendo's neighbors, the Yamane family.
Kolhotz High Fashion Club
When Ryoga attempts to pair up with Akane to fight Mikado and Azusa, he accidently pairs up with Ranma. The crowd roars their disapproval, not because of the switch, but because of Ranma and Ryoga's poor fashion sense. In steps the Fashion Club to outfit them with trendy skating costumes.
Shampoo's Father
voices: Banjou Ginga & Terry Klassen
Shampoo's father is only briefly shown when she falls into Jusenkyo. He is quite upset that his daughter has become a cat.
Sentaro's Grandmother
voices: Naoko Kyoda & Pauline Newstone
Sentaro's Grandmother is the matriarch of the Daimonji School of Martial Arts Tea Ceremony. She is forcing her grandson to marry Satsuki Miyakoji against his will.
Sanae
Sentaro believes that Sanae the monkey is actually his fiancee Satsuki Miyakoji. Luckily for him, he discovers that this is actually Satsuki's pet. "Sanae" means "tea sprout".
Satsuki Miyakoji
voices: Momoko Ishii & Joeclyn Loewen
Satsuki Miyakoji is the 1993 Miss Tea Ceremony and is quite beautful. She is too shy to meet with Sentaro so she sends her pet monkey Sanae in her place. Satsuki means "tea moon" the joke here being the tea reference. Miyakoji means "main thoroughfare of the metropolis."
Man From Neighborhood Watch
voices: Mahito Tsujimura & Terry Klassen
This man often asks Soun to help with some neighborhood problems (usually involving Happosai). He reappears later in the series to ask Soun and Genma help stop the attacks of the Niku-men.
Dojo Destroyer
voices: Takumi Kamiyama & Robert O. Smith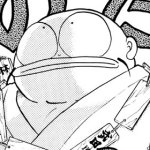 This large, silent man comes to fight Ranma and Akane for the Tendo Dojo sign, but Ranma's date with Shampoo fouls things up.
The Director and his Assistant
voices: Sukekiyo Kameyama & Terry Klassen
The Director decided to hold auditions for Romeo and Juliet and wanted Akane as his Juliet. Kuno, Gosunkugi, Happosai and Ranma all wanted the part of Romeo. The winning play of the festival wins a chance to see China.
Mr. Ryokou
voices: Kenichi Ogata & Paul Dobson
When the director said the winning play "wins a trip" he actually means Mr. Ryokou (Mr. Trip in Japanese), a foreign actor and the judge of the Drama Festival. In English he was called Xian "China" Li.
Mr. Green Turtle
Mr. Green Turtle is Kodachi's pet alligator. He has the photo negatives that Ranma is trying to get back inside his electrified collar.
Ukyo's Father
voices: Ishino Ryuzou (?) & ???
Ukyo's father agreed to give his okonomiyaki cart to Genma if Ranma and Ukyo would get married. Genma agreed (even though he had already arranged to have Ranma marry one of Soun's daughters at this point). In the end, Genma took the Kuonji's okonomiyaki cart, but ran away without Ukyo.
Yoiko Hibiki
"Yoiko" is actually Ranma pretending to be Ryoga's sister. Ryoga took Akane to his home to see his new puppies, and when Ranma found out, he decided to disguise himself as Ryoga's long lost sister. She's also quite a popular character in Japan. "Yoiko" can be translated as "good girl".
Umakichi & Ushiko
Ushiko (called Cowbert in the English translation because "ushiko" is cow in Japanese) and Umakichi (Horsebert in the translation, because "umakichi" is Japanese for horse) are two television characters. Akane sees Umakichi force himself on Ushiko and thinks Ranma might try to do the same thing to her.
Moxibustion Priest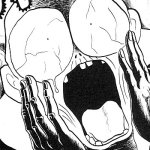 When Ranma loses his strength he, Ukyo, and Akane seek out this priest in hopes of finding a cure. The priest tells them that Happosai stole the scroll containing the cure 100 years ago.
Maman
voices: Mari Yoko & Kathleen Barr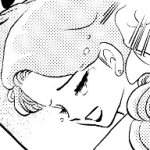 Yotaro's mother, or "Maman" as he calls her, worries deeply about her son who never wants to go outside and play. She decides to get him a panda to help cheer him up.
Kimen School of Martial Arts Calligraphy Teacher
On one of Ryoga's trips through Japan, this old man attacked him and begged Ryoga to feed him. Once Ryoga did, the old man drew the "Mark of Power" on his chest. The mark made him invincible, but embarrassed him because it looks like a smiley face.
Hanako & Her Brother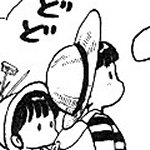 These two children mistake Happosai for Santa Claus and then proceed to follow him around trying to become his helpers.
Wishbringer Monk
voices: ??? & David Kaye
Kuno makes a journey to the temple housing the "Wishbringer Sword". This monk realizes that Kuno will be the only man to pull the sword from it's stone. Why? Because Kuno was the one-millionth puller.
Dragon's Whisker Salesman
voices: Tomomichi Nishimura & Brian Dobson
Shortly after Ranma falls into Jusenkyo, he eats some soup this man has made from the Dragon's Whisker. The man is relieved to see that Ranma is a girl, because the whisker has no effects on women. When Ranma reveals he is a boy, the man gives him another whisker to prevent his hair from growing too quickly.
The Mayor of Zekkyo
The greedy mayor of Zekkyo holds a contest to see who can win a trip to any hot spring in the world, with all expenses paid. The mayor has many deadly traps set throughout the course, and he plans on letting no one win the trip. Ultimately Ryoga and Ukyo barely beat Ranma and Akane across the finish line.
Madame St. Paul
voices: Yuko Mita & Ellen Kennedy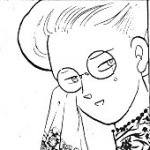 Madame St. Paul is the taskmaster responsible for training Ranma in the ways of Martial Arts Dining. Her name is a reference to a Japanese floor cleaning spray (because Picolet's name references another type of floor cleaner).
Le Petite Bouche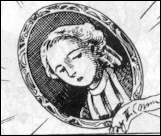 Le Petite Bouche developed the secret technique "Parlay du Foie Gras". Ranma uses the technique to defeat Picolet. The "Parlay" involves quickly stuffing your food in your opponents mouth. Because of this, the user does not have to develop the characteristic distended mouth that many champion "martial arts diners" have. His name is French for "Little Mouth".
The Panda Artist
voices: Tomomichi Nishimura & Robert O. Smith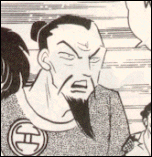 This artist uses cursed tools to create his paintings. When Ranma and Genma accidently knock the seal off of one of them, the painting comes to life. The painting happened to be of a female (and extremely poorly drawn) panda. Once the panda is returned to the picture, the artist draws a horrible likeness of Ranma next to her to keep her company.
Pantyhose Taro's Mother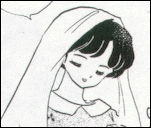 Pantyhose's mother went into labor near Jusenkyo, and with Happosai's help, she delivered her baby safely. To show her gratitude, she let Happosai wash him off (in Jusenkyo) and name him.
Paper Doll Salesman

Seeing Hikaru go unnoticed by Akane, causes this salesman to make Gosunkugi an offer he can't refuse. He sells Gosunkugi the magical paper dolls that force their wearer to do whatever is written on them. Hikaru attempts to use one of them to make the man lower his price.
Civil Engineer
voices: Bin Shimada & Terry Klassen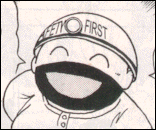 The civil engineer discovers Ryoga stuck in an underground cave, unable to escape. He teaches him the "Shi Shi Hokodan" in order to blast his way out. The reason he looks so cartoonish is because many construction sites in Japan feature posters with this character on them. His Japanese name is Doboku Shugyosha.
Harumaki's Grandson
voices: Toshikatsu Izaki & Bill Switzer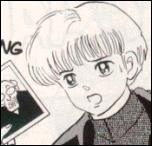 Harumaki's grandson searches for Ranma in order to get her to take his grandfather on a date. He hopes this will improve his ailing grandfather's health.
Gyoko
voices: Reiko Suzuki & Cathy Weseluck

Gyoko is Harumaki's wife, in her younger days she looked quite a bit like Ranma. Gyoko's name has the same kanji as gyouza, a chinese meat and vegetable fried dumpling.
Doctor
voices: ??? & David Kaye

This is the doctor that is treating Harumaki while he is in the hospital.
Colonel Sanders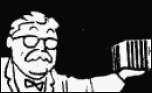 When Harumaki's spirit leaves it's body, Colonel Sanders of Kentucky Fried Chicken fame demonstrates a soul leaving it's body.
Armadillo

Armadillo is the Kuno family's pet dog. He is an American Pit Bull Terrier. Kuno uses Armadillo to try some of Kodachi's tea which happens to be poisoned.
Mrs. Tendo
voices: Kayo Sanpei & Cathy Weseluck
Mrs. Tendo is the mother of Kasumi, Nabiki, and Akane, and the wife of Soun. She passed away many years ago leaving Soun to raise the children. It is never said how she died, but the family still thinks of her lovingly. After Mrs. Tendo's death Kasumi assumed a more motherly role and helped with household duties.
Headmistress of Sainokawahara Dorm

The headmistress died many years ago, and is attempting to get Happosai to steal her underwear. Unless he does, she can not go to heaven and Happosai will die.
Fua Fua
When Pantyhose Taro went back to China, he saw Fua Fua being chased by a bear. After saving her she asked what his name was, and he ran away because he was so embarrassed about his name.
So Fu Lan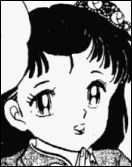 So Fu Lan is another girl that Pantyhose Taro saves while back in China. So Fu Lan is being chased by a wild boar, and like Fua Fua, she asks Pantyhose his name. Once again, Pantyhose finds her very attractive, but runs away in shame.
Fishing Rod Salesman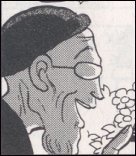 This is the salesman the sales Ryoga the magical Fishing Rod of Love that intends to use on Akane.
Gosunkugi's Parents

The apple doesn't fall far from the tree in the Gosunkugi family. One can see where Hikaru gets the dark circles under his eyes from.
Shinnosuke's Grandpa
voices: Takeshi Aono & French Tickner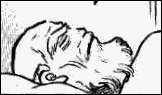 Shinnosuke's Grandpa is deceptively weak, or at least he seems to be. He always seems to muster up enough strength to unleash his Megaton Punch when his grandson forgets something important. Grandpa raised Shinnosuke and has seen that he gets the Water of Life when he becomes too weak.
Orochi
voices: Toshihiko Nakajima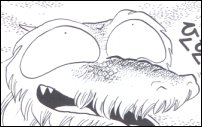 The Eight Headed Orochi is a large dragon that lives in Ryugenzawa. The moss from his body is what creates the Water of Life that Shinnosuke needs to live.
Cursed Bathingsuit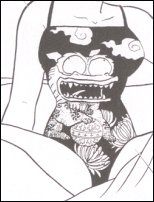 When the owner of this bathing suit rejected it after her boyfriend, Natsuhiko, failed to compliment it, it began dragging young girls to the bottom of the sea until Ranma broke a small shrine and it lept onto her body.
Natsuhiko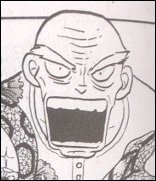 Natsuhiko once dated the original owner of the cursed bathingsuit, and now the suit desperately seeks a kind word from him. Apparently he used to look like Upperclassman Kuno in his younger days. He has a penchant for very loud clothing.
Ryu's Father

Ryu's father died as a result of Genma's Umisenken and Yamisenken techniques burying him within his collapsing dojo.
Antique Salesman
voices: Koichi Kitamura & Terry Klassen

This antiques salesman sells Kuno the powerful Phoneix egg. He also sells the scroll containing the recipe for the pills used to make the Phoenix grow faster and leave Kuno's head.
Phoenix
voices: Rei Sakuma & Tomohiro Nishimura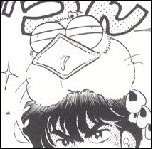 This phoenix hatches on Kuno's head and then gives him amazing powers. The phoenix helps Kuno defeat Ranma, but as it grows it becomes an inconvience for the whole town.
Priest
voices: Bin Shimada & Michael Dobson

This priest gets Ranma, Genma and Soun to help try and replace the Oni's seal in order to prevent him from escaping. Once the Oni escapes, the priest aides them in recapturing it.
Oni
voices: Kouzou Shioya & Paul Dobson

This tiny oni poses a problem for the Tendos when it possesses Kasumi and the only way to exorcise it to to punch the sweet elder daughter.
Katsunishiki

Katsunishiki is Akari Unryu's sumo wrestling giant pig. When Ryoga manages to defeat him, Akari knows he is the man for her.
Occhan

Occhan is one of Ukyo's friends that runs "Heracles" another okonomiyaki shop. He recently got a cursed spatula and his head is also shaped like one (which has nothing to do with the curse, but is strange nonetheless).
Densuke's Mother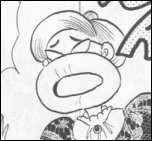 Densuke's mother is worried about her sick son who refuses to take his medicine. She recruits female Ranma as a pretty nurse to help out.
Densuke's Doctor

This large lipped doctor has trouble treating Densuke, who refuses to take his medicine. Ultimately this doctor makes the ultimate sacrafice for his patient.
Mushroom Farmer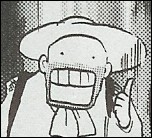 The mushroom farmer finds Ryoga lost in the Mushroom Forest and warns him not to eat any of the magical fungi.
Shinto Priest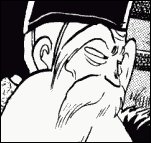 This Shinto priest is the owner of Shussemaru. He is quite a good artist and draws Shussemaru's picture on all the charms that the temple sells, much to Shussemaru's dislike.
Jizo

Jizo is a bosatsu, a deity beneath Buddha in the Buddhist pantheon. He is charged with guiding children's souls to the next realm and helping lost travellers. When Mousse gives Jizo a scarf, the statue seeks to repay his kindness.
Patorashu

Patorashu is Hayato Myojin's pet octopus. Ranma uses him to remove Hayato's mask.
Mirror Ranma

After Ranma's reflection is captured in a magical mirror the spirit of a girl who once stared at it for hours on end emerges in Ranma's form. Unlike Ranma she is absolutely boy crazy.
Kotetsu

Kotetsu is the wicked stepmother to Konatsu. She works Konatsu like a slave while she and her daughters lay around all day doing nothing but running their brothel/teahouse.
Kome

Kome is the disgusting, blimp-like stepsisters of Konatsu. Like her mother, she treats Konatsu awfully.
Koeda

Koeda is the skinny stepsister to Konatsu, and just like Kotetsu and Kome, she treats her stepsister awfully.
Konatsu's Parents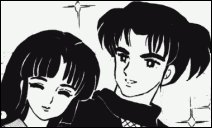 Konatsu's kind and loving parents died when he was very young, leaving him to be raised by his ugly and mean step-sisters.
Bean Plant Salesman

This gentleman is the owner of the Shotgun Bean Plant, his resembalance to an oni ties into the Japanese legend that oni are driven off by throwing beans at them.
Shotfun Bean Plant
This plant was once used to drive off oni, but nowadays with no demons to fight it spits beans at anyone who gets angry or aggressive in its vicinity.
Little Miss

This little girl wants to give Ranma some Valentine's Day chocolates to thank him for rescuing her rabbit doll which she nearly lost.
Little Girl's Grandma

For some reason Little Miss rides around on her grandma's back, which results in the old woman always looking weak and exhausted.
Pyonkichi
This is Little Miss's rabbit doll which Ranma retrieves for her.
Great King Jellyfish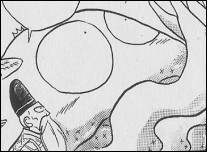 The Great King Jellyfish forces the local townspeople to hold a race in the ocean to see which short haired girl he will get to toss up and down, a favorite activity of his.
Plum

Plum is the Jusenkyo Guide's daughter. When the Phoenix People invade Jusenkyo in search of the Jusenkyo Map, they capture the guide, and Plum steals the map and heads to Japan.
Manservant

Saffron's much abused manservant has a lot to put up with from his bratty master. When things go wrong for Saffron this poor fellow seems to take it personally.