Nabiki Tendo, 17, is the middle daughter of the Tendo family. She is best described as conniving and money hungry. She is very intelligent when it comes to making money, and usually is able to do it with very little effort.



While many people seem to think that Tatewaki Kuno and Nabiki have some type of hidden attraction, this couldn't be farther from the truth. On the surface Nabiki and Kuno dislike each other immensly, and in this case, what you see is what you get. They actually do dislike one another.

Nabiki has no qualms about selling out her friends or family to make a little money. She has engaged herself to Ranma in order to make money from Akane and even had a competition with Kinnosuke Kashao to see who could get the farthest on 10 yen. This often casts Nabiki in a negative or greedy light, but she occasionally does have sincere feelings about her sisters, and hints at desperately missing her mother. A master manipulator, Nabiki's eye is always on the bottom line and her plans never backfire.
---
The Meaning Behind the Name
Nabiki means "to bend or yield to a power". This obviously refers to her ability to manipulate people. Tendo means "the laws of heaven and nature".
Voices:
Minami Takayama & Angela Costain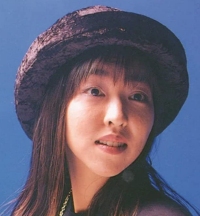 Minami Takayama is the voice behind the money-grubbing Tendo sister. She has had quite a few famous roles including Conan Edogawa in Detective Conan, Kiki in Kiki's Delivery's Service, Mana in Mermaid Forest and Mermaid's Scar and Dilando Albatau in The Vision of Escaflowne.

Angela Costain is the beauty behind Nabiki in English. Ranma ½ is the only anime work Angela has done, even though it has been steady work for 10 years. Angela took a break during season 6 so she could attend flight school. Her sister, Elaina Wotten-Costain, filled in during Angela's break.