1|2|3|4|5|6|7|8|9|10|11|12|13
14|15|16|17|18|19|20|21|22|23|24|25|26
27|28|29|30|31|32|33|34|35|36|37|38 Top

Ranma ½
volume 33
Click Here to Purchase

| | |
| --- | --- |
| | Shonen Sunday 1994 Vol. 44 & 49 - 1995 Vol. 8 |
Published in English as:
Ranma ½ Graphic Novel Vol. 31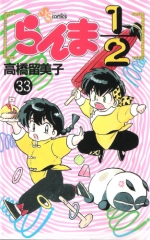 Chapter 345: 愛の特効薬
Ai no tokkoyaku
(Love Medicine)
A dying boy named Densuke lays in his hospital bed, watching the persimmons falling from the tree outside his window. He vows that when the last persimmon falls he will die. Female Ranma shows up outside and starts picking all the fruit from the tree, prompting Densuke to toss a chair at her. When Ranma goes inside to investigate, she finds out about Densuke's situation. It seems he is dying, but refuses to take his medicine unless it is given to him mouth-to-mouth by Ranma. Ranma, of course, refuses until he he realizes how grave the situation is. Ranma relents and goes on a date with Densuke and tries to slip the medicine down his throat at various times throughout the date, but to no avail. Densuke finally collapses as he succumbs to his illness. Ranma rushes him back to the hospital, where Densuke is finally given his medicine mouth-to-mouth. Unfortunately it was not given by Ranma, but by Densuke's (male) doctor.
Chapter 346: かすみさんが怒った
Kasumi-san ga okotta
(Kasumi Gets Mad)
While out on the town, Ranma and Akane meet up with Nabiki, Soun and Genma and they all decide to eat at a local restaurant. Soun calls home to tell Kasumi that she does not need to cook dinner for them tonight. Unfortunately Kasumi has cooked a large meal for everyone and her disappointment is palpable over the phone. Soun panics when he realizes he has upset his precious daughter, and everyone heads home to see if they can set things right. When they arrive they find a smashed flower vase and a butcher knife jammed into the floor. Upon further investigation they find Kasumi sitting upstairs in the dark with her back to everyone. They decide to make things up to her by hanging some banners and fixing her some tea. Unfortunately they break her favorite tea cup and unravel a sweater Kasumi was knitting. Not knowing what to do, everyone prepares to leave home until things settle down. Soon they hear Kasumi coming downstairs demanding them to stop. Everyone hides until she leaves the room, and then decide to over Ranma up and blame everything on him. As Ranma is tossed out to face Kasumi, he screams and crashes through the door. Kasumi is holding a cat in her arms, which terrifies Ranma. Kasumi explains that a stray cat had gotten into the house knocking over the vase and knife and generally causing mischief. Kasumi's not mad at all... until she hears that her sweater and tea cup have been destroyed. Then everyone gets to see what Kasumi is really like when she's angry.
Chapter 347: 年の数だけ
Toshi no kazu dake
(The Mushroom of Time)
Ryoga has gotten himself lost once again, this time in a strange forest. After searching in vain for food, he has to settle for eating a single, puny mushroom for dinner. After swallowing it a man jumps out of the bushes and begs him not to eat it. Days later Ranma comes across P-chan who is growing some mushrooms in a bowl. Ranma tries to eat one, but Ryoga stops him after splashing himself with hot water. Ranma is shocked to find that Ryoga has de-aged and is now a small child. Ryoga explains that the mushrooms from the forest are the cause. Depending on the size of the mushroom, it will reduce your age. A five centimeter mushroom turns you into a five year old, while a sixteen centimeter one will be needed to get Ryoga back to his proper age. All he has to do now is grown one of the tiny fungi into a adequately sized mushroom. Ranma offers to let Ryoga stay with the Tendos and proceeds to make his life hell when Akane takes a shine to lil Ryoga. Due to Ranma's carelessness in storing the mushrooms they are soon ruined, and Ryoga force feeds one to Ranma as payback.
Chapter 348: キノコの森に行こう!
Kinoko no mori ni ikô!
(To the Mushroom Forest!)
Now both Ranma and Ryoga have turned into little children. They decide to try and find the Mushroom Forest again in hopes of locating a sixteen centimeter mushroom that can return them to their rightful age. Unfortunately they run into Mousse, who doesn't recognize them, but feels the need to beat them up regardless. Shampoo also tries to adopt little Ranma, which only slows them down. Kuno soon shows up and takes little female Ranma to an amusement park after thinking she is the Pigtailed Girl's younger sister. Finally Ranma and Ryoga escape and set off for the forest again, but Ryoga's poorly written map proves to be of no use. Luckily they discover that some mushroom spores have taken root on Ryoga's backpack.
Chapter 349: 遠い16cm
Toi 16cm
(16cm Short)
Back at the Tendo Dojo, Ranma, Ryoga and Akane do their best to take care of the mushrooms once again. Unfortunately the little boys keep squabbling over the fastest growing mushrooms and nearly destroy the crop more than once. Akane punishes Ranma for force feeding Ryoga a mushroom that turns him into a three year old. Soon Akane realizes that the only way to ensure the safety of the mushrooms is to hide them. Ryoga and Ranma break into her room to find them, but manage to wreck the room and still find no sign of the mushrooms. When Akane comes in, they hide in her drawer, only to get stuck. She tells them she has two sixteen centimeter mushrooms ready for them to eat, so they power up their ki and try to force their way out of the drawer. Unfortunately their ki blasts roast the remaining mushrooms. Akane tells them that that was the last of them. Ryoga and Ranma bawl their eyes out at the thought of having to life their childhoods over again, but Akane secretly has more mushrooms, but this time she decides not to tell them until they are ready to be eaten for fear the two boys may really destroy the last batch.
Chapter 350: 二人のシャンプー
Futari no Shampoo
(The Two Shampoos)
As another cold winter begins to settle in, Mousse has been spending all his free time knitting a scar for Shampoo. Unfortunately Shampoo doesn't appreciate Mousse's efforts and blows off his gift. Saddened, Mousse comes across a Jizo statue, and wraps the scarf around it to keep it warm. Later Shampoo comes to visit Mousse for a date. The next day Ranma and Akane find Mousse looking warn out and tired. This continues for days, so they decide to follow him and see where he goes each night. Shampoo comes along too, because she is upset that Mousse's work at the Cat Cafe has begun to suffer due to his fatigue. Everyone is shocked to see that there is another Shampoo, but this new one is obviously the Jizo statue Mousse gave his scarf too. The statue explains that it wants to repay Mousse's kindness by giving him what he wants (dates with Shampoo). Ranma and Akane decide to try to take the scarf back from the Jizo Shampoo hoping that it will then leave Mousse alone. Unfortunately taking it back is easier said than done. Ultimately they wind up locking Mousse in a cage at the Cat Cafe when nothing else seems to work. Then Jizo Shampoo shows up to help the beleaguered Mousse bust out.
Chapter 351: 今宵も恩返し
Koyoi mo ongaeshi
(Payback's A Saint)
While Jizo Shampoo distracts everyone, Mousse uses his background in circus magic to escape from his prison. With Jizo Shampoo in tow, Mousse hijacks a bicycle and heads for the hills. Ranma, Akane and Cologne follow in hot pursuit, while Shampoo stays behind. Mousse envisions a romantic date with Shampoo, but when Ranma and the others find him, he is actually drinking water in a cemetery. Once again they try to remove the Jizo's scarf, thinking it will then leave Mousse in peace and stop draining him of his energy. With no other choice, Ranma challenges Mousse to a fight, hoping to defeat him and make him give up on the statue. Mousse attacks, and displays amazing strength, despite his weakened state. Cologne points out that Mousse has been carrying a stone statue around for many days, and has build up a great deal of muscle and stamina. Mousse is able to go toe to toe with Ranma for awhile before he almost faints. Ranma feels sorry for him, and offers to call it a draw, but Mousse battles on. Shampoo arrives and wraps Mousse in a scarf she made for him. With that the Jizo Shampoo says that it's debt has been repaid and it departs. Everyone wonders why the statue was draining Mousse, but Cologne points out that wasn't the case at all. Mousse was weak because he was dating the statue every night and working at the Cat Cafe everyday. Only later does Mousse realize that the scarf Shampoo gave him was actually knitted for Ranma.
Chapter 352: 迷惑!!暴れ絵馬
Meiwaku!! abare ema
(The Drawn and Quartered Horse)
Ranma, Akane and Hinako head to a local temple where the charms students have placed for good luck in their scholastic future are being destroyed. There they meet Ukyo, who is filling in for the priestess who ran off when the trouble began. Soon the priest shows everyone the charms that are being destroyed, which show a crudely drawn horse on them. At first everyone thinks that the priest who drew the pictures must be a terrible artist, but then the horse appears... The horse's name is Shussemaru and he is extordinarily ugly. It seems he has been destroying the charms with his picture on them because he wants depiction to be less true-to-life and more beautiful. Ranma, Akane, Hinako and Ukyo all try to reign the wild horse in, but to no avail. Ultimately the priest consents not to draw Shussemaru anymore and start putting their equally ugly boar, Mantenmaru, on the charms.
Chapter 353: 早乙女一家温泉旅行
Saotome-ikka onsen ryoko
(Saotome Family (Onsen) Vacation)
Genma and Ranma are off training in the mountains when Genma tells Ranma the story of the pair of coats Nodoka made for them when Ranma was but a child. An avalanche causes them to retreat to a nearby hot spring resort, which looks familiar to Genma. After seeing his and Nodoka's name carved on a tree, he remembers that this is where they honeymooned after they were married. Surprisingly Nodoka is revisiting the hot springs as well, and Genma and Ranma have to disguise themselves as Ranko and Mr. Panda once again. Nodoka becomes suspicious when she sees them wearing the coats she made for her husband and son, but they explain that Ranma and Genma saved them from the freezing weather by giving them the coats off their backs. Ranma continually has to evade his mother, and finally resorts to putting his coat on a monkey who runs off into the mountains. A disappointed Nodoka remarks how surprised she is that her son looks like a monkey.
Chapter 354: タコが狙ってる
Tako ga neratteru
(Stop That Octopus!)
Over the course of a month, customers at Ucchan's Okonomiyaki keep finding octopus masks in their food. When Ranma and Akane show up one afternoon, Ukyo spots the culprit, Patorashu the ocotopus. After she follows the fleeing cephalopod she finds his master, Hayato Myojin, a boy from her past who wears an octopus mask. Hayato is upset that Ukyo does not remember him or the reason he wears the mask. He refreshes her memory and reminds her of the Takoyaki versus Okonomiyaki battle they once had. After he lost, he kept his promise to always wear the octopus mask. Ranma and Akane are curious about what he looks like, so they invite him home and try various tricks to try to make him remove his disguise. Finally Ranma sneaks into his room late at night and pulls it off. As punishment Hayato glues a mask on Ranma's face. With that Ukyo and Hayato decide to have another match, with their faces once again on the line.
Chapter 355: 激闘!お面デスマッチ
Gekito! o-men desumatchi
(Masked Death Match!)
Hayato chooses to fight at a construction site, where Ukyo's large okonomiyaki are at a disadvantage to his tiny takoyaki. Back at the Tendo Dojo, Ranma realizes the only way to make the super-sticky batter that is holding the mask to his face dissolve is to stick his head in a fire. He does so, and the batter cooks, causing the mask to release. Back at the battle Hayato manages to overcome Ukyo and defeats her. After admitting defeat, Ukyo refuses to wear the mask, but Hayato does not mind, now that he can finally remove his. Unfortunately Ranma used the batter to glue Hayato's mask on as well.
1|2|3|4|5|6|7|8|9|10|11|12|13
14|15|16|17|18|19|20|21|22|23|24|25|26
27|28|29|30|31|32|33|34|35|36|37|38 Top