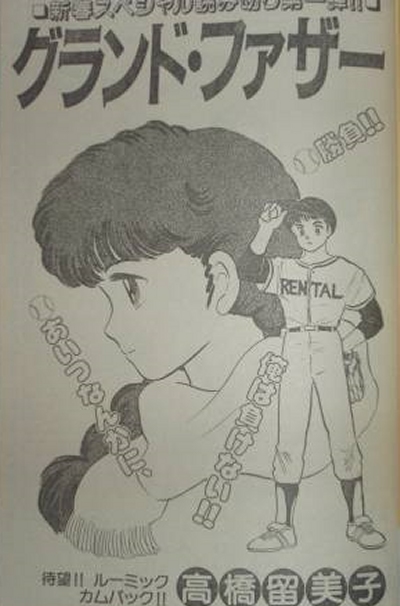 The Grandfather of All Baseball Games
Japanese Title: Gerando * faza
Originally Published In: Big Comic Spirits 1991 Vol. 1/2

Summary: Tetsu is a young baseball player who makes his money by renting himself out to teams. Tetsu's grandfather Gen "invests" most of Tetsu's money for him. Unknown to Tetsu, Gen is investing his money in his new girlfriend Ai. When Tetsu meets Ai's granddaughter, it's love at first sight, but when he asks for the money he's made playing baseball he finds out that Grandpa Gen has blown it all on his girlfriend.

As luck would have it the Merchant's Association needs Tetsu to play for them, and is willing to pay ¥50,000. Upon hearing this Gen signs up for the other team to make some quick cash to keep Ai happy. Will Grandpa's "Whisper Psyche Out" and "Fake Heart Attack" techniques really pave the road to a victory?