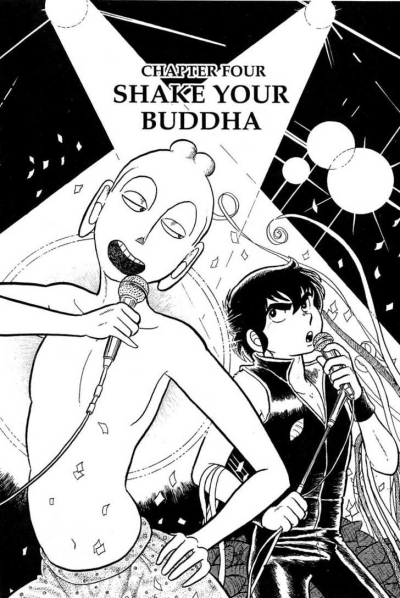 Shake Your Buddha
Japanese Title: Ganbari masse
Originally Published In: Shonen Sunday Zokan 1978 #8

Summary: One day while harvesting yams during a famine Daisuke Goko unearths the future Buddha. Upset about the Buddha trespassing into his yam garden Goko gets very upset and accuses the Buddha of never helping anyone. Goko tells the Buddha that religion has never helped feed people, and that without people like himself that toil and labor to harvest yams everyone would be dead. The Buddha is clearly upset about this and tells Goko that without spirituality the world would end.

During their arguement, a televison producer invites them to have a debate on the air and share their views with the world. Buddha speaks on religious matters and all the elderly stand behind him, while Goko speaks on realistic matters and everyone else supports him. As the media continues to cover the argument they turn the Buddha and Goko into celebrities and their focus becomes selling products over their message. In the end, Goko and Buddha decide that best way is to team up (and secretly attempt to convert each other's sect). In the end a Buddha/Goko team-up is a poor ratings draw and the people in charge demand stand-up comedy rather than the answer to the apocolypse.

A comedic story with a deep message about our society to say the least...