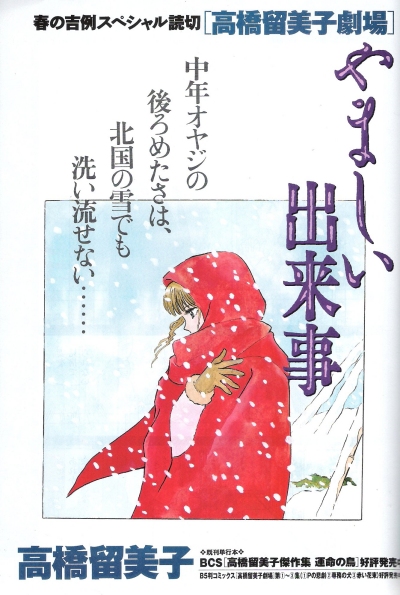 A Guilty Happening
Japanese Title: Yamashii Dekigoto
Originally Published In: Big Comic Original March 6, 2012

Summary: Mr. Kosakai thinks back to his time with a much younger woman, the hostess Ayaka, with whom he had an growing extra-marital relationship. Kosakai broke things off when his wife and mistress both wanted to visit the same restaurant. Realizing things were getting too complex he put an end to the affair. Flashing foward to the present day, Mr. Kosakai and his wife welcome his son, Masaki, home for the holidays along with a young woman he is dating named Kaoruko Urano.

When Masaki and his mother step into the kitchen after dinner Kaoruko is left alone with Mr. Kosakai. Their conversation is plesant enough until the very conservatively dressed Kaoruko reveals that she is actually Ayaka, the hostess from Mr. Kosakai's past. Kosakai panics, but the woman does not reveal anything to his family. He spends a restless night in bed, worried about what might happen if his wife and son find out about his past indescretions. Soon he is grilling his son after work, trying to find out if he might suspect anything.

His frustration is not over though, after work he finds Kaoruko in his living room innocently chatting with his wife, sending him into a panic. Soon Masaki reveals that Kaoruko shared the fact that she used to work as a hostess and knew Mr. Kosakai from his frequent visits. Things become increasingly frantic as Mrs. Kosakai starts to suspect her husband visited the restaurant she had wanted to visit and little by little she seems to be picking up the trail that could lead her to discover his shameful secret.