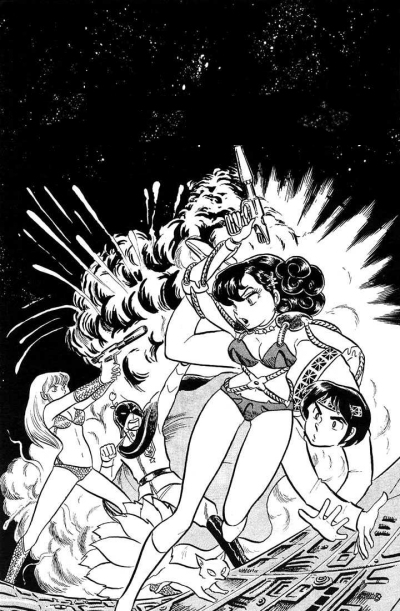 Maris the Chojo
Japanese Title: Supagyaru [za * chojo]
Originally Published In: Shonen Sunday Zokan 1980 #10

Summary: Maris is a young woman from the planet Thanatos. She works for the Space Patrol's Special Police. She and her partner, Murphy, are just getting back from a suspension. Maris had destroyed three rockets and was having to work as a human taxi to pay off the bill. Maris is given a job to rescue Koganemaru Matsushida, son of the biggest quadrillionaire in the galaxy. Maris realizes winning over this suave beau will make her financial problems go away, so she sets out to resuce him.

Maris arrives on planet Frajyl and meets Suzy, one of the kidnappers and a fellow Thantosian. Like Maris she has to wear a "power suppessor cast" around her arms and bust to keep from destroying everything with her strength. After a long battle Maris is able to defeat Suzy, but then the Ringleader arrives. He removes his mask and is revealed to be Koganemaru Matsushida, the hostage! He explains that Suzy had captured him, but he wanted to play the role of the villian. After revealing himself he proposes to Suzy and she accepts.

With no other choice, Maris returns to her menial Space Patrol job cursing her luck.