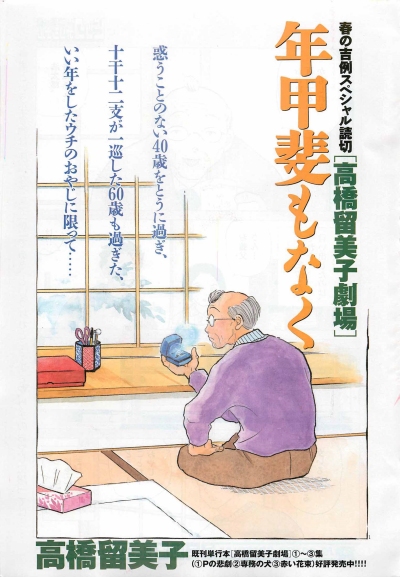 Wrong For One's Age
Japanese Title: Toshigaimonaku
Originally Published In: Big Comic Original March 5, 2010

Summary: Kotaro and Kaori, a 30 something couple are living with Kotaro's father, Hiroyuki. Hiroyuki suddenly announces that he might be getting remarried. Of course this comes as a shock to his son and daughter-in-law. As it turns out 67 year old Hiroyuki met 28 year old Wakana at the gym and they quickly became close. All of this is quite disconcerning to Kotaro and his wife. The first thing they discover is that Hiroyuki bought Wakana a 500,000 yen engagement ring. Kotaro's suspicions only increase when his father continues to lavish gifts on Wakana.

One day Kaori is out shopping and another woman from the neighborhood tells her that a gentleman was in front of the gym with a photograph of Wakana. The man seems to be a detective, and Kaori believes that Wakana may be up to no good. She calls Kotaro and work and upon hearing this Kotaro rushes home, only to find his father signing the marriage papers. The man who seems to be a detective arrives at the house, saying that he has heard rumors of Wakana coming and going from their home. No sooner does he arrive, than Wakana shows up as well. Seeing the man, she flees and he chases after her. A short time later she calls Hiroyuki who escapes from home to go and meet her, causing Kotaro to panic and go off in search of his father.

Kotaro finds Hiroyuki with Wakana just as the man he assumes is a detective catches up with them. Upon finding them the man bows deeply and begs for Wakana to come home again. After some discussion, Wakana apologizes to Hiroyuki and reveals the man as her boyfriend. Soon Hiroyuki settles back into his old life, thinking fondly of his deceased wife and lavishing money on his newborn grandchild instead of young women.