Takahashi Talks Endings
Taken from Movement circa 1988. Translation by Toshiaki Yamada.

I was moved to tears at the last scene of ďUrusei Yatsura KanketsuhenĒÖ Lately Iíve found the anime of Maison Ikkoku is good and I watch every episode.

Whatís your impression about the Kanketsuhen (Movie 5) of Urusei Yatsura?

Takahashi: I think itís good because I was moved to tears at the last scene.

So, is the last scene your most favorite?

Takahashi: Yeah! Itís the last scene of Lum and Ataru rushing up to each other and embracing.

Please give us your thoughts on the enthusiastic fandom of Urusei.

Takahashi: I thank all of you for supporting me for such a long time. This is the last episode and I would like you to enjoy it very much. Thatís all.

What do you think about the Kanketsuhen of Maison Ikkoku?

Takahashi: Every scene was connected with each other very well, and it kept me in suspense.

They will complete the TV anime of Maison Ikkoku on March second as well. The TV anime was more true to the original stories than movies, wasnít it?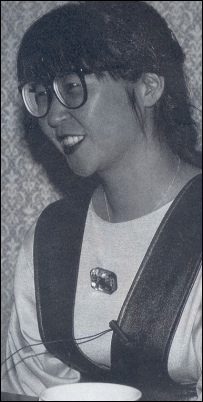 Takahashi: I make it a rule not to compare my drawings with anime characters. It doesnít matter if the anime characters look like my original characters. I think itís good if they make attractive looking anime. So, Iím satisfied with the TV anime of Maison Ikkoku and watch every episode. But Iím not talking about their character designs. I think that they understand the finer points of what Iím trying to convey well.

Do you have memories about Urusei and Maison?

Takahashi: It may be safe to say that all of the things are my memories.

All of your characters are very unique. How do you create them?

Takahashi: In most cases I create them in my mind. Of course I pay attention to the roles which they should play in the storylines.

I think Megane and Mr. Yotsuya are especially unique.

Takahashi: Megane is a character who is better described in the anime than in the original manga. As for Mr. Yotsuya, I liked someone like him and I found myself drawing him. He is, as it were, ďthe character that I made.Ē

Do you mean you like a person like Mr. Yotsuya? (laughs)

Takahashi: I donít like him actually being around me (laughs), but as long as I draw him, Iím interested in him. Rather, I like him for some reason.

For now I am going to concentrate on Ranma.

What do you think about adaptating Ranma Ĺ into an anime?

Takahashi: Iím not the one who you should ask about it.

I think many fans want an adaptation into anime.

Takahashi: I know the impact of anime. I know anime adaptations increase a lot of fandom and I often think, ďThatís great.Ē

What will your work be other than Ranma?

Takahashi: Well, short stories or serializations. I think itís difficult to write another series other than Ranma for practical reasons.

You mean you will write Ranma only?

Takahashi: For now, Iím going to write only Ranma and consider its story seriously.

<< Back to Profile