This page is about some of the other important characters from Urusei Yatsura that weren't quite prominient enough to be given their own page. The following characters have either made a major impact on the story or have had re-occurring appearances.
Characters from the regular series
Characters from the movies
---
Nagisa Shiowatari
voice: Mitsumi Yayoi
A marriage between Ryuunosuke and Nagisa was arranged by their two fathers who longtime friends. It appears from the start that Nagisa is a girl who is merely been lied to, and would be crushed if she found out her fiancé was a girl. But it turns out that Nagisa already did know and what's more, she's a dude. Similar to Ryuunosuke's upbringing, Nagisa is actually a boy who was raised to be a girl by his father. This transvestite fiancé gives Ryuunosuke the creeps and so she doesn't want to have anything to do with him. Nagisa however is completely in love with Ryuunosuke. When they first appeared, Nagisa and his father were dead and wandered as ghosts but by drinking the tear of the giant sea urchin Nagisa regained human form. He now can persue Ryuunosuke to his heart's content, however he still retains many spiritual qualities. For example, Sakura's spiritual wards repel Nagisa as they would any eretheral ghost. Nagisa has quickly become the biggest problem in Ryuunosuke's life. Especially since we soon find out that despite his girlish upbringing, Nagisa was a champion sumo wrestler and is an even stronger fighter than Ryuunosuke. Ryuu's father is no help either since he encourages Nagisa's lewd behaviour.
Shingo
voice: Tohru Furuya (Kyosuke from Kimagure Orange Road)
An illiterate and thick-headed jungle boy turned ninja who grew up in an artificial jungle where the plants all conduct electricity. Other than his grandfather who's a senile old gardener employed by the Mendo family, Shingo's primary contact with the outside world has been television. He believes everything he sees on TV is real and thinks of his TV (who he calls "Sofu-dono") as a real person. Living his whole life in an electric jungle Shingo is immune to electricity and has adapted to using it as a source of strength. So when he kidnapped Lum to become his girlfriend, she quickly discovered that her lightning zaps are ineffective against him. Shingo later re-appears in another story where he becomes Mendo's personal ninja bodyguard, adding one more complication to Mendo's already complicated life. He's a skilled ninja, but not a very effective bodyguard. With his brain rotted by television, Shingo is the type who gets carried away with the moment and losing touch with reality, often making a bad situation a lot worse. His grandfather will often pop-up and try to help, but the old man's senility has made him even more hazardous than his grandson. He keeps confusing Mendo with Shingo for one thing.
Shuutaro and Ryoko's parents
voices: Mugihito (father) and Akiko Tsuboi (mother)
The very proud and dignified heads of the Mendo conglomerate. The father is a bit of a flake and a jokester which he often hides behind an air of seriousness. Ryoko seems to get much of her troublemaking tendencies from him. The mother is old fashioned and refuses to use modern conveniences. Ryoko seems to get her demurity, impeccable manners and use of old things from her mother. Looking at their whole family on a whole, Shuutaro seems to be the most normal one in the family. But considering Shuutaro, that's not saying a whole lot.
Asuka and Tobimaro's Parents
voices: Yukiko Nashiwa (mother) and ???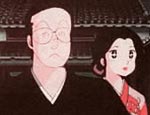 Heads of the Mizunokoji sporting goods empire. The father seems to be a useless wimp, and it's the mother who holds the entire family together. But as of late, she's been unable to keep it from coming apart. Her problem lies with her children's warped relationship. Mrs. Mizunokoji is even more powerful than Asuka, yet also highly intelligent. She can even do the "angry big-head" technique (which Soun Tendou from Ranma ½ later perfected). Of course she never apears outwardly angry because her face is unchanging like a china doll's. The smile on her face and vacant stare never changes. She tries to raise Asuka to be an ideal lady, but things keep going wrong, much of which she blames on Tobimaro. Like all members of the Mizunokoji family she has starry eyes, but the father's face is badly drawn and made up of Japanese hiragana characters.
One of the high-school guys in the manga often seen hanging around with Ataru. He's hot for Lum, just like every other guy in the school. Kosuke doesn't exist in the anime, mostly Lum's Guards were used instead, especially Perm. It's important to note that in the manga, the characters of Lum's Guards only existed for the first couple of volumes. Kosuke, along with a few other indistinguishable classmates filled the need for average high-school students as extras. However, Kosuke is the only one who actually goes beyond being a simple stock character. He does contribute something to the story on many occasions. The only reason he doesn't have his own character page is because he has no anime counterpart. As for what kind of person he is, it's hard to say. He seems like an ordinary student. A bit taller than most kids, somewhat athletic, reasonably popular. A bit of a goof. Not much more to him than that.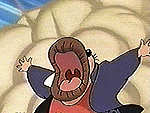 A big-lipped, pea brained juggernaut high-school punk who constantly persues Shinobu. The disgusting Soban has a thing for petite school girls and is especially infatuated with Shinobu. He just won't take no for an answer. He nearly always charges at her yelling "Shinobu-san suki da!!!" but is always met with a punch to the face. Not very smart, but very strong. Luckily, still not as strong as Shinobu.
Ten's Mother
voice: Keiko Yokozawa / Masako Katsuki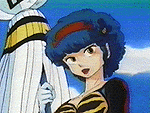 Ten's a flame breathing pyromaniac toddler, but his mom is a female firefighter. How's that for irony? She has her own airbike and her rescues are often signaled with flash floods. Ten is usually an obnoxious brat, but when around his mother he's extremely nervous and uncharacteristically well behaved. That's because he's frightened to death of her. She's obsessed with fighting fires and even more obsessed with mercilessly punishing those who set fires. Even when still a baby, she would come home every day and tell Ten gruesome tales of her retribution against fire starters. From then on stemmed Ten's deep fear of his own mother. She doesn't quite know about how Ten irresponsibly unleashes his fire breath at the least irritation. But he knows too well that if she ever did find out, she'd probably kill him. Both Ten's parents are away a lot which may have been the chief contribution to Ten's precociousness.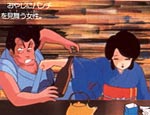 Ryuunosuke's mother. She died when Ryuunosuke was only an infant. The lack of a motherly influence was a contributor to Ryuu's strange condition.


Kaede
voice: Yuko Mita (also voices Benten)
A female Shinobi who dislikes the life of a Ninja so he is always looking for other lines of work. But her fellow ninja aren't willing to let her leave.
A violent little axe-weilding, flying bear riding toddler who seems to be the alien reincarnation of the legendary children's folk hero Kintaro. Yet he strongly denies being the same as the one in the fairy tale. One of Jariten's best friends.

Kintaro's pre-school teacher who has an idealistic attitute towards teaching nursery school kids. Travels with her class in a giant space-ship which looks a lot like a koi-nobori (Carp streamer).
Gave Ataru a Taxi drive home from school at warp speed. The fare was worth all of the oil on earth. The only one who could pay it off was Lum. Because of this Ataru was forced to allow Lum to live with him. The space cabbie also shows up in the first movie.
A roly-poly domesticated little demon who lives in water and keeps running into Ataru and co. First kicked out of one of Mendo's hotel pools, then relocates to Ataru's family bathtub, and later dumped off by Ataru at the beach only to find a little boy who takes him as a pet. The gang later sees him at the aquarium where they help him win back his love (a blowfish) from a punk shark.
Ran's Mother
voice: Yukiko Nashiwa (also voices Mrs. Mizunokoji)
When growing up, Ran's mother was a domineering woman who'd spank Ran regularly any time she thought she did something wrong. She'd constantly compare her kid to Lum, telling Ran to be a good kid just like Lum. Truth be told Ran, who was a different person back then, was a meek little girl who tried to stay out of trouble. Instead it was Lum who was the problem child and sought trouble out regularly. Whenever they were caught and Ran took the blame, Lum never had the nerve to 'fess up to Ran's scary mother. Ran invariably would get a whipping. Years later Ran came to resent Lum for this, among other things.
Logistically I'm not sure how this works, but here goes. Kurama's father was a handsome and stoic human samurai in ancient times. How he's connected to an alien race is never explained, but maybe Kurama's mother abducted him, and they mated. Of course if her mother looked anything like the other crow goblins in Kurama's crew, I don't want to think about how they'd mate. Ugh! Anyway Kurama who admires her father took Ataru back in time long before Kurama was born, to meet her father. Her hope was that he could teach Ataru how to be a more virtuous man. But after discovering his inexperience with women (fainting after seeing Lum in her usual bikini) Ataru takes him under his wing to teach the man how to be a playboy. Luckily for Kurama he wasn't too corrupted, and she managed to hold on to her existance.
Sakura's mother looks like exactly like Cherry, only with dark curly hair and a women's kimono. She seems to be fairly good person though. Not a jerk like her brother Cherry. But it makes me wonder where the heck does Sakura's ravishing looks come from? Maybe she was adopted.
Okay, he's not much of an important character. He doesn't even exist in the regular timeline of the series, but his appearance was so funny I had to include him. When UY did a parody of the story of legendary samurai Musashi Miyamoto, Mendo in the role of Kojiro Sasaki had a stupid looking pet performing monkey named Jotaro. Throughout the story Jotaro kept getting bigger and bigger until he was the size of a bear. He seemed pretty broken hearted when Sasaki dumped him because he was getting too big. He later becomes a fujitive with Ataru and Cherry.
This character is notable because he was based on Takahashi's editor, both in name and somewhat in personality. Oshima is a completely clueless racoon spirit who was rescued by Ataru when he was polymorphed into a crane. Learning of the famous fable about the grateful crane, he decides that he must repay Ataru for saving his life. Only Oshma's gratitude is exceptionally annoying and without benifit. Anyone can tell he's a racoon, but the guy seems convinced that his lame disguises are able to hide his identity. He's flabbergasted when Ataru points out to him that he's a racoon.
Oshima's character is later recycled for the 3rd UY movie, as the main antagonist Ruu's sidekick.
Dracula
voice: Kaneda Kimotsuki (also voices Soban)
He claims he's Count Dracula, but if so, he's not nearly as impressive as the stories make him out to be. An aging, cowardly guy with a grade school level education, Dracula is a vampire, but he really sucks at it (Har, har, har. get it?). Always on the lookout for beautiful young women to suck their blood, he rarely succeeds. Most often he gets his vampire bat sidekick to do all the work for him.
Mako Modoki
voice: Ritsuko Ohwada
A violent little girl about Ten's age who'll stop at nothing to get what she wants. She gives Ten Valentine's Day chocolate and then tells him that because he accepted it, they have to get married. Of course Ten knows little about Earth customs and believes her. Ten has no interest in girls his age and tries to escape her, but Mariko is persistent.
Prim & The Prince of the Underground
Prim is a red-haired girl with black wings and horns like a gargoyle from Lum's planet. The pince is Prim's fiance (although he doesn't acknowledge it). Was one of the many suitors for Lum when her dad tried to set her up with another man in a matchmaking party. Really proud in his prowess for digging holes and loves to show off his talent.
Kuribayashi-sensei
voice: Tessho Genda (also voices Rei)
The principal of Tomobiki High (a different principal than the one mentioned on this site) hired this teacher to discipline the unruly kids. He is instantly hostile towards Ataru, which only compounds once he develops a lolicon complex over Lum. He only appears in the anime and fades away long before Onsen-Mark shows up.
Hanawa-sensei
voice: Rokuro Naya
A deluded and optimistic teacher at Tomobiki. Not very swift, his attitude to teaching is totally idealistic and naive. Full of clichéd sayings about the possibilities of youth and the wonder of learning.
Lum, Benten, Ran and Oyuki's tyrannical robotic teacher from elementary space school. Benten, Lum and Ran try to gang up on him and get rid of him, but found him to be indestructible. CAO-2 is shaped like a gigantic blackboard eraser. Often throws itself at students putting chalk dust all over them.
A mean spirited little orange cat with an eye-patch who lives in the Moroboshi family's neighborhood. Often sits on the roof of their house. Torajima really likes to give Ten a hard time.
Dappya space people
voice: Makoto Ataka (usually)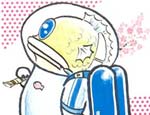 These aren't really Urusei Yatsura characters but they've made more appearances in UY than any of the characters in this page combined. These are little fish aliens dressed in spacesuits with funny high-pitched voices. Their name comes from the fact that they end every sentence with "Dappya!" The Dappya are a running joke on the show and the manga. They pop in and out of the screen at random, narrate and make commentary or just stand there as extras in the show. They often substitute in the place of a background character. They're funny because they have absolutely nothing to do with UY, but they keep interfering with the show. These were originally from Takahashi's first manga ever published. Katte na Yatsura an approximate English translation would be "selfish guys."
---
Characters from the movies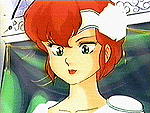 Elle is the antagonist from the first UY movie, Only You. She is the lovely ruler of planet Elle. She tried to get married to Ataru, but Lum and the gang put a stop to her plan. Elle has a hobby that makes Ataru's dream of a harem seem moral in comparison. She collects all of the handsome men that have ever loved her and freezes them for storage inside a giant refrigerator. Because she's one of the most beautiful women in the galaxy, her collection had reached 99,999 men by the time of the movie.
An old woman who was Elle's nanny as a child. She now serves as Elle's second in command.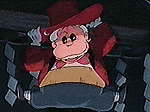 Appears in the second movie, Beautiful Dreamer. A short little dream demon dressed in red with a top hat and little black spectacles. Created an alternate reality in which Lum, Ataru and the others were all trapped inside. Has overwhelming control over manipulation of dreams into reality, but his dreams almost always turn to nightmares. His cohort is the pig-like Baku, which to my recollection is an actual mythological creature which is said to eat dreams. Mujaki is a recycled character from one of Takahashi's earlier Urusei Yatsura stories. But he's a lot more powerful and sinister in this movie than the character he was based on.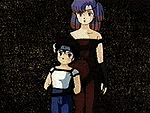 Ruu appears in the 3rd movie. He is a lonely young boy from the distant future who has been given incredible powers due to a crystal ball that he found. He meets Lum as a child while travelling through time. Later as he sees Lum with Ataru he decides to separate them indefinitely. But to his surprise he finds out that Lum is actually his ancestor. Lahla is Ruu's private tutor. Lahla knew of Ruu's relation to Lum and tried to put a stop to him altering the flow of time.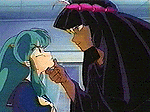 Appearing at the end of the manga series as well as the 5th movie, Rupa is the prince of a world of total darkness, giant mushrooms, and flying pigs. It was arranged by Rupa's great-grandfather that he would marry Lum. Rupa never met her but he was still intent on marrying her. Since she wasn't willing to go with him he kidnapped Lum after accelerated her growth so that her horns fell out (causing Lum to lose her powers until they'd grow back). His black robes which all of his people wear, kind of makes him look like a trash bag.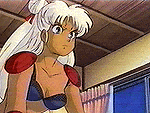 Ever since they've been children, Carla has loved Rupa. When one day Rupa showed Carla a picture of Lum, his bride-to-be, Carla changed from a childhood friend to a violent assailant. From then on she constantly threatened and terrorized Rupa out of jealousy. The more Carla would attack him, the more he'd try to distance himself from her (see any parallels here to Ataru and Lum?). Near the end of the movie Rupa finds that he doesn't really want to marry Lum. He admits to Carla that he loves her and asks her to marry him. Of course she accepts. Kanketsu-hen movies aren't known for their irony after all.
Near the end of the series, Lum meets her great grandfather for the first time. Apparently before Lum was born, his cold sleep chamber was carelessly put into storage when Lum's family moved. They only found it once Lum had come of age and it was too late for him to warn the family about Lum's fate. A long time ago Lum's Great Grandfather was travelling and starving for food. He met short man in black (Rupa's Great grandad). the man gave Lum's great grandfather two mushrooms that he could eat from but took the poison one. In exchange for the cure he would be forced to give up one of his daughters for marriage, but since he had no daughters the man in black would then wait until a girl was born into his family. That girl turned out to be Lum.
Another alien princess who wields a bazooka and appears in the 6th movie "Always my Darling." Lupica wanted to obtain the fabled love potion but to do so legend had it that one must find the most lecherous man in the universe. A search for such a man turned up none other than Ataru Moroboshi.
The tofu vendor on a flying bike that Lupica wanted to use the potion on. Even though separated by class, they were good friends as children. As they got older, it grew into love for each other. But Lupica believed that Rio had no interest in her while Rio thought the same thing about Lupica. Because of this it caused a whole mess of problems for the UY gang.
---
And that's about all of the notable characters I can think of. If I figure out any more, I'll add it to this page.
Assuming you've read all of the pages so far, now that you know the characters of Urusei Yatsura, take a look at my guide to the relationships between the main characters. Click to advance.