1|2|3|4|5|6|7|8|9|10|11|12|13|14|15|16|17|18|19
20|21|22|23|24|25|26|27|28|29|30|31|32|33|34 Top
Urusei Yatsura
volume 17


| | |
| --- | --- |
| | Shonen Sunday 1983 Vol. 10 - 20 |
Published in English as:
Unpublished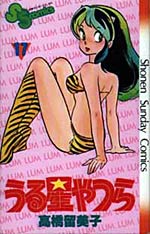 Chapter 169: 父と娘の愛のバレンタイン!!
Chichite kono ai no barentain!!
(A Valentine of Fatherly Love)
Another story revolving around a conflict with Ryuunosuke and her father very similar to the valentine story with Jariten. This time they have a huge fight over valentine candy. Ryuunosuke has gotten a ton of valentines from female admirers (to Mendo's dismay). She eats one in spite of her father and he laughs in her face telling her that it means she's accepted another woman's love as a man. Now Ryuunosuke has to give a valentine chocolate to another boy, or else.
Chapter 170: 必殺ケンカ少年・スッポンのテン!!
Hiisatsu kenka shounen suppon no Ten
(The Injured Boy and the Missing Ten)
Ataru starts out in his room bullying and humiliating Ten. Ten gets really angry and the last thing the reader sees is Ataru letting out a scream of pain. The next day Ataru comes to school with a swollen cast on his arm. Later as things heat up, Ataru's cast begins to ignite into flames and after he dunks it in water we see that underneath the cast was Ten who had his bite locked onto Ataru's arm the whole time.
Chapter 171: あんこ悲しや、恋の味!?
Ani kanashi ya, koi no aji!?
(Bean Paste: The Taste of Love!?)
On another moonlight picnic date with Rei, Ran brings taiyaki. She unknowingly gets some crumbs on her face which Rei proceeds to taste, but to Ran, it seems that he kissed her on the cheek. Ran is so happy that she invites Lum over and they have their little girl talk. But as Lum returns home she finds Rei who still persues her. Ran shows up and believes Lum has once again stolen her man. In a tizzy she gobbles down a taiyaki getting it all over her face. Rei repeats the same behavior, only this time he gives her a long drawn-out kiss on the lips. Then he goes back to chasing Lum again.
Chapter 172: き・え・な・いルージュマジック!!
Kienai ruuji yumaji wa!!
(The Magnetic Lipstick!!)
Lum creates a special lipstick that does not rub off and causes an incredible magnetic pull between any two people that wear it, forcing them to kiss. Lum tries to use it with Ataru, but he resists. After he sees it's true power, Ataru pretends to throw it away but he actually keeps it for his own purposes. Ataru takes it to class and gives it to Ryuunosuke. It all goes haywire from then on as a kissing frenzy starts up and everyone in class wants in on the action.
Chapter 173: 埋没教室!!
Mai bakkyoushitsu!!
(Buried Classroom!!)
Ataru and his friends are ignoring Ten, so he tries to breathe fire on them. But they dodge and Ten hits a greenhouse, burning it to the ground. The guys who run the greenhouse are a trio of school boys who are really obsessed with tomatoes. Ataru turns them on Ten and he gets buried in the ground until Lum finds him later that night. The next day Ten has somehow made Tomobiki High School sink itself into the ground. But classes must go on regarless of being 3 stories underground.
Chapter 174: 艶姿桜御祓!!
Adesugata Sakura no oharai
(Sakura's Exorcisms)
Sakura finds her paper wand missing. It was taken by Jariten in the confusion of a fight with Tiger Stripes the cat. Without it Sakura cannot expel or purify spirits. Later that day, Ataru and company enter her office to find it absolutely swamped with evil spirits, all of whom have latched onto Sakura. Ataru soon finds the wand, but he's not about to give it back that easily.
Chapter 175: 花見デスマッチ!!
Hanami desumatsuchi
(Flower Viewing Deathmatch)
Something's been mutilating Mendo's octopi. They all only have 7 tentacles when there's supposed to be 8. So Mendo hunts for the culprit and it leads to his sister Ryoko. She's been feeding Mendo's pet octopi to her pet cherry tree. So Mendo pits his black shade wearing secret police against Ryoko's tree along with Ataru in a steel cage wrestling match. Lum also decides to join in the fight.
Chapter 176: 思い出ボロボロ!?
Omoide poro poro!?
(Trickling Memories!?)
After a home cooked dinner with the Moroboshi family, Ryuunosuke returns to her place, pining over the fact that she grew up never knowing who her mother was. She fights her father because he keeps evading the subject by telling her a lot of phoney stories of his loves in his youth leading up to Ryuunosuke's birth. She runs away to think about things, but her father finds her.
Chapter 177: 思い出のアルバム
Omoide no arubamu
(Memory Album)
Ryuunosuke has a dream where she sees her mother, but it's a woman with her father's face. She wakes up with a horrified scream. After she recovers from the nightmare, she hears her father talking in his sleep and mentioning his dead wife's name, Masako. He then starts chasing down Ryuunosuke apparently sleepwalking and thinking that Ryuunosuke is his wife. Later she gets the idea to find an old photo album so that she can find out what her mother looked like. But Mr. Fujinami was already prepared for that.

Chapter 178: みじめっ子・終太郎!!
Mijimekko Shuutaro
(Miserable Shuutaro)
In the depths of the Mendo Manor, Shuutaro Mendo is trying to cure himself of his crippling fear of the dark and of enclosed spaces by locking himself inside old vases, but it's completely unsuccessful. All his friends come by to help (rather for the free meal) and Lum offers to help. She can take them back in time so that they can stop the phobia before it gets worse. So Mendo, Shinobu, Lum, Ataru and Ryuunosuke find themselves in the past where they meet Mendo as a small child. He is such an obnoxious brat that everyone, even Mendo himself wants the kid to suffer. Kid Mendo calls his secret police to take care of them and so Ataru and Mendo are captured.
Chapter 179: 逆上、終太郎!!
Gyakujyou, Shuutaro!!
(Kill, Shuutaro, Kill!!)
Mendo and Ataru are captured by the child version of Mendo. Mendo especially is being subjected to tortures for the kid's amusement. Soon Ataru starts to join in. Meanwhile Lum, Shinobu and Ryuunosuke have dressed up as secret servicemen to infiltrate the manor. They rescue the boys, but then little Mendo drops a shrine bell on top of big Mendo. In the panic of his phobia, Mendo breaks out, but now he's gone completely psycho and wants to murder Ataru. But the little Mendo thinks he wants to kill him. After the ensuing chaos, the child Mendo gets trapped inside a food vat fearing for his life as Mendo smashes each of the vats with a broad axe looking for Ataru. Everyone later returns to the present, but in the past, Mendo has just accquired his own phobia.
1|2|3|4|5|6|7|8|9|10|11|12|13|14|15|16|17|18|19
20|21|22|23|24|25|26|27|28|29|30|31|32|33|34 Top